13 Tips to Create and Run Sweepstakes Successfully
Are you wondering how to create a giveaway and make it a huge success? Well, organizing giveaway or contests is not tough. Getting people to know it and participate is infinitely tougher.
With the right sweepstakes, brands have acquired an average of 34% of new customers. Won't believe it?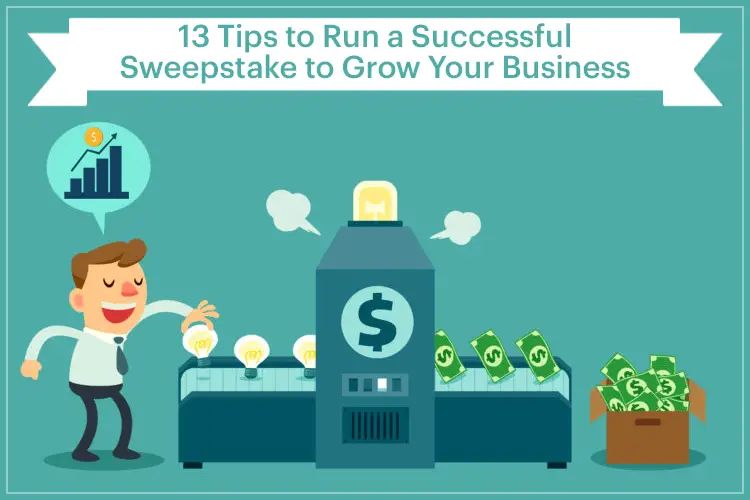 Today, we are breaking down the most complex steps of giveaways so that it is simple for you to organize contests by following the best marketing practices. We have included the most time-tested and analyzed strategies to ensure that you run contests that convert.
Nowadays, it seems like every brand is emphasizing on running some type of sweepstakes. However, running a successful contest for your business needs careful planning which doesn't happen just by luck. Here are some of the benefits associated with the sweepstakes contest.
Increase in engagement
Boosting the page exposure
Bring in new contacts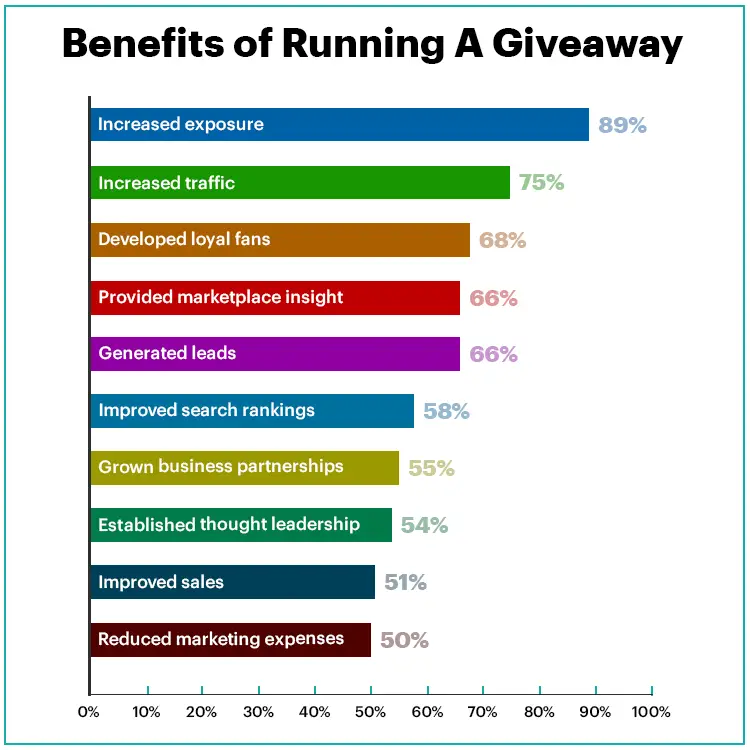 Sweepstakes usually refer to prize giveaways in which the winners are selected on the basis of luck. Interestingly, prizes can range from t-shirts and stickers to cars and cash offers. It is worth noting here that prizes and luck are central to the sweepstakes strategy. Over the years, it has been noticed that people love to enter giveaways. But that doesn't imply that you can execute a campaign without proper planning. Here are some of the steps to ensure that you get a good return on investment.
1. Commence with a set goal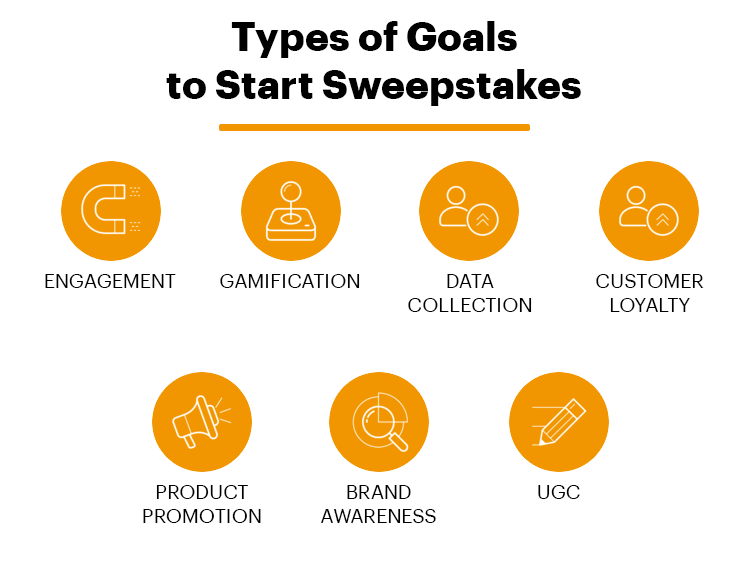 The foremost step towards giving a successful giveaway is defining what success looks like for your brand. Note that a giveaway would help you achieve many goals. But at the same time, it is imperative to focus on only one or two goals. Here is the list of some common sweepstakes goals:
Collect leads with detailed information
Increase the frequency of newsletter signups (Emails Collection)
Increase your Followers on social media platforms
Create Huge Linkback (SEO Benefit)
Drive sales on paid memberships on your site
Generate brand loyalty by awarding customers with enticing prizes
Boost the number of free trials
Bolstering the frequency of average daily visitors
Increase social media exposure in the form of retweets, repins, and reposts
Promotion of a new product to potential leads
Create a buzz around a product or a service with teaser ads
Also, concentrate on the other goals that your business wants to achieve so that you can streamline them with your sweepstakes objectives.
2. Select Right Platform to Run
Once you have made your mind to launch a new sweepstake deciding the right platform is the next step. There are a total of 5 viable platforms to host sweepstakes but you should choose the most effective one by analyzing the followers.
Your website (Blog/Custome Page)
Facebook
Email
Instagram
Twitter
3. Deciding on the theme
The best way to design a theme and format of sweepstakes is to attach it to your target audience's preferred market. It is worth mentioning here that the most successful sweepstakes are the ones that coincide with a specific event or holiday.
Here is the list of some compelling sweepstakes themes that are popular.
Wedding season
Grand inauguration
Spring cleaning
Seasonal change
Back to School
New Album
Any special holiday which would clearly cast an indelible imprint on participants
Get fit for the summer heat
On the other hand, it is not necessary that your sweepstakes theme should adhere to the above-mentioned occasions only. You can also arrange a simple giveaway with a great prize to keep excitement building within audiences.
4. Types of Promotion

Basically, there are 3 types of promotion.
Contest: Require skill and efforts
Sweepstake: No skill required, 100% luck-based
Survey: Get customer feedback & reward them
If you need user-generated data then try content like an essay, feedback, review, caption, photo, video, and many more.
If you do not need any user-generated data but only personal information then you should try sweepstake.
To increase customer experience satisfaction, brands launch surveys and reward gift cards or coupon codes for filling surveys.
5. Working on a defined time frame
It is important to decide the time period of your contest. Selecting a time frame in the form of a limited offer and quick promotion would always encourage conversion.
To be precise, the best duration for the campaign is 25 days to 60 days.
It is a widely known fact that most contests run for a month. However, a time period of two weeks may also be sufficient for your promotion if you perceive that your audiences would enter that time frame. It is crucial that the people have enough time to know about the contest and register their names.
6. Review Rules on various Social Platform
Before going forward and publishing your rules, it is crucial that you review the existing rules that are placed on various social media platforms, competitor's sweepstakes, and the tools you are using to create contests. You can analyze your campaign's language to make sure that the right terminologies are being used by you.
While using terminologies, you have to keep in mind that a certain section of the participants wouldn't comprehend them properly. Moreover, you want to be clear about the eligibility of the entrants. For instance, should contestants be a part of a specific age group? Is the contest open for individuals of a particular nation? All these questions would help you to define the rules of the contest clearly.
Required Data to create Sweepstakes Rules Page
No purchase required
Purchases don't increase the chances of winning
Eligibility of Entrance (Age, Location, etc.)
Start Dates & End Date of Sweepstakes
Odds of winnings
Draw Dates & Method (Judging criteria)
Dates (winner is chosen and the winner notified)
Privacy laws regarding the winner identity
7. Emphasize on organizing the event on a national holiday or event
By incorporating a national or local event in your contest timeline, you can further broaden your reach. The goal here is to think like your consumers to help them with the contest challenges. By creating a giveaway on the basis of a popular event, you have a greater probability of being viral among your loyalists. Using hashtags related to a specific event or holiday on social media platforms would boost your views and create images that best go with your brand and sweepstakes theme.
8. Select prizes that fit your audience
Well, it is very common to think that any prize would help your giveaway meet your goals. You may also think that the prize of the highest value would readily impress your audiences. In both these cases, you are having a wrong perception.
To determine the right prizes for your audience, you first need to define them. If you are running a national giveaway and the list of your audience includes everyone, then it would be great to opt for a prize that everyone wants. Thus, it is imperative that you decide on the prize by defining your target audience clearly. Selecting a prize that would excite your audience would greatly impress them.
Here are some characteristics of a good Sweepstakes prize.
The prize should be enticing enough so that a large number of people would crave for winning it
The prize should be cost-effective so that you get a positive return on investment
The prize should be relevant to your business niche so that your target audiences only show interest
9. Choose the right tool to create Contest
Taking advantage of the right tools would assist you in tracking, monitoring, and building the contest. Emphasizing on the appropriate contest marketing platforms would help you to drive conversions and boost leads accordingly. Here is the list of benefits you would avail with a contest marketing tool.
Contest marketing tools would allow you to design an eye-catchy contest page with pre-optimized themes
You would have access to analytics and metrics to witness the performance of your contest in real-time
With ready-to-publish social media publish buttons, promoting your contest will be just a click away
Identify the influencers of the contest to drive the maximum entries
10. Adding share incentives
If you want to make your sweepstakes contest viral, incentives is the best option for you. Encourage your audiences to share the contest on various social media platforms and pages. Promise them free entries when they are able to attain their target of retweets and reposts. Hence, you need a strategy to drive new and prospective customers who aren't your present customers. In other words, incentives work like magic for the sponsors. It is a great free marketing tool to increase the popularity of your contest.
Note that these leads are quite valuable for your marketing campaign. The best way to bring new people to your contest page is to encourage the existing contacts to share the sweepstakes campaign on your behalf. In return, you can promise them incentives!
11. Free Promotion
Promote your giveaway contest on major social media platforms, mailings, blogs, and newsletters.
By posting in the sweepstakes community of Reddit, you can promote your contest among a large group of people.
Submit your sweepstakes to sweepstakes directory to make it viral. Here is the list of top 10 sweepstakes submission sites.
Sweepstakesbible.com
Giveawaymonkey.com
Sweepstakestoday.com
Sweetiessweeps.com
Contestchest.com
Giveawayfrenzy.com
Sweepstakeslovers.com
Winprizesonline.com
Giveawayplay.com
Giveawaypromote.com
Ensure that the giveaway is clearly visible on your home page if you have a website.
Doing a press release declaring the date, time, and venue of the contest is a great way to attract contestants.
You can also incentivize your entrants so that they can spread the word along with referral marketing.
12. Paid Promotion
You need to get your contest in front of as many people as possible. If you have a budget then you can opt for paid ads that promise greater visibility. Paid promotion ideas to promote your sweepstake are mentioned below.
Contact niche influencers for paid promotion.
Try PPC based ads on Google AdWords, Facebook ads, Instagram, Pinterest
Buy a featured spot in a sweepstakes newsletter.
Advertise on a competitor's site.
13. Select and promote the winner
Don't ever think that after picking the winner, the giveaway contest is over! You have to ensure that you promote the stories of the winners. By promoting the winner's story, you are in a better position to attract more audiences. Subsequently, you can send an announcement about the winners to all the entrants. An engrossing CTA at the end of the announcement would make your contest more successful. For instance, you can invite entrants to sign up for newsletters so that they can stay informed about future contests. Invite newspaper dailies to write a feature article on the winner of your giveaway. Using social media to spread the word about your winners would also present you with lots of options for free PR.
When implemented correctly, your giveaway contest is much more than a means for people to get prizes. In other words, it is an effective marketing tool to grow your brand along with a strong community on various social media platforms. To be precise, some types of businesses are ideal for giveaways. However, hopefully, the above-mentioned points have provided you with ideas on how to organize a giveaway contest.
Submitted by admin on October 7, 2020 08:18am
<![endif]--> <![endif]-->