FAQ- Know all about Sweepstakes, Contest And Giveaways
Many people think that sweepstakes and giveaways are not for them. They keep distance and feel unsafe or cheated in contests. There are lots of confusions and misunderstandings about sweepstakes. Here we have tried our best to cover most questions rising. It will show from the basic information about sweepstakes to the secret of choosing the best sweepstakes and how to increase the chance of winning.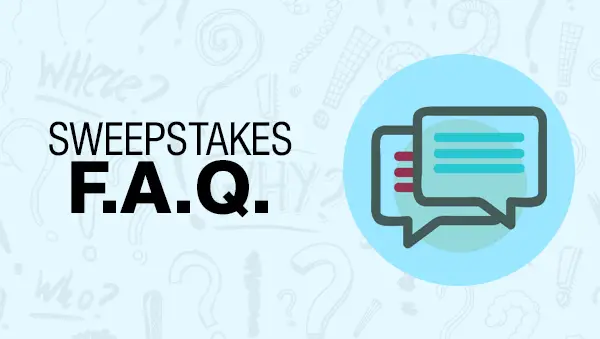 Contents
1. Are Sweepstakes Legal?
For residents of the US and company promotion have done in the US, These are 100% legal to enter.
There are various state vise rules, but that has to be followed by the sweepstakes organizers. For example, Tennessee residents can't enter alcohol promotion sweepstakes. So the organizer will exclude the state. Participant doesn't have to worry about legality. In the beginning, it was started as a lottery system, but according to current regulation, it is just for brand promotion. The organizer can't insist on participants to purchase, and it should be 100% on luck.
It is also not legal to enter in sweepstakes if you are related to company management in any way. Generally, in terms and conditions, the state employees and any other relation to the company are not eligible to enter.
2. How to determine what is the best sweepstakes to enter?
There are various sweepstakes flooded on our websites daily. Some give cash, trip, cars, coupon, or free food supply. It is your choice what do you want. The bigger the prize amount, the more participants will be there to enter. The smaller prize will increase your chance but that might not be the best sweepstakes to enter.
Some sweepstakes restrict entries by some states, age, gender, and very short period. If you found yourself valid for such sweepstakes, you should enter them. Because it will have low competition than general sweepstakes due to large numbers of entry.
If you are using a particular brand and you know maximum about it, you shouldn't miss any contest from that brand.
There are many sweepstakes that offer hundreds of smaller prizes and a few grand prizes. It increases your chance of winning.
If you have time, you can enter almost all sweepstakes. We arrange the sweepstakes in a way, that you can check the prize amount, dates, and all major information from the overview in a few minutes.
3. How to increase the chance of winning sweepstakes?
There are many sweepstakes in which you can enter with multiple entries and in multiple ways. Remember no purchase policy. The purchase will not increase the chance of winning. Some sweepstakes accept daily entries. The more you enter; your chance of winning will be more.
Refer to the question just before this. Choose the best sweepstakes that will increase your chance of winning.
4. I have visited the store or purchased from the company, Can I win?
No, Never. Again, No Purchase policy is the main rule of sweepstakes. Just make more entries if it is allowed. Visiting store or purchase isn't required to win. Pepsi Stuff is one of the big and successful sweepstakes which runs for the last many years. You need to enter a unique product code to participate. But according to law, they can't insist on the purchase of products. So they provide free UPC code to your request. In this way, no purchase necessary or will not increase the chance of winning.
5. How do you know sweepstake is legit or scam?
Reputed brands and companies regularly organize sweepstakes and contests for their brand awareness and brand promotion. If they ask for your personal information on another page than their brand, you should check carefully for website authenticity. Some data-hungry companies collect private data with an offer of prize and gifts. We don't list such sweepstakes on our website.
Check the following before you end up entering the scam.
They shouldn't ask for purchase or payment details
It must not require credit card details.
Real sweepstakes verify your email.
They don't send email from personal or public domain email like Gmail, yahoo.
Check the form which you submit, it is an authentic website?
You might get a winning email without entering particular sweepstakes.
They will tell you about your winning, but ask for little charges to pay in advance.
6. What is the difference between Contest and sweepstakes?
Contests are not for everyone just sweepstakes. You should be using their product or having deep knowledge. For example, Pen Company can run contests in which you have to submit your art. Makeup brand may ask you before and after photo to enter in the contest.
Some brands may ask a story about your experience in using products. Some may ask a more creative way to suggest new products. The contest gives you more chances of winning, but it is not suitable for you every time and hard to enter.
If you have never heard of a particular brand, you don't know anything about it, you don't fit in the contest, then you shouldn't waste time in such a contest. Contests require special skills to win the grand prize.
7. What is the meaning of giveaway?
Giveaway is as the name suggests, they give you without any expectation from you. It is a kind of brand awareness. Generally, it is also used for customer appreciation and feedback. It is just as sweepstakes and no difference for the US consumer market.
8. What are the chances of winning a giveaway?
However it is a game of luck, There are also some calculations in the chance of winning. The major chance of winning will be decided by your number of entries.
For example, a small brand is running sweepstakes in which they have received 1000 entries.
If you have 1 entry in that sweepstake your chance of winning is 1/1000 = 0.0001%
If you have 20 entries in that sweepstakes your chance of winning is 5/1000= 0.005%
It is clearly 5 times than single entry.
You can increase your chance of winning by selecting the best sweepstakes for you.
Refer. Question number 2.
9. Why do you list survey also? How can I get a free gift card?
When you participate in any sweepstake or contest, you are giving your personal details like name, email, address, zip code. They might also subscribe to you for their product promotion. So what's wrong to give an honest opinion of the product and get some reward?
In today's market, consumers are not ready to give opinions or spend time in improving any product. So companies give them a little reward for their opinion and time. Generally, they give gift cards that can be used to purchase their products.
So it's a better way to participate in the survey and get a free gift card. They really want to hear from you.
10. What are various ways to enter sweepstakes?
Before the computer and email system became popular, it was done by a regular 3x5 inch index card that has to mail to a particular address. It was needed to be handwritten and posted to the organizers' address.
Today, you need to fill online forms with a valid email address. Sometimes they required to confirm email id with a click on the link they sent in your email.
11. What is Automatic sweepstake bot entry? Is it legal?
Some websites and tools (we called to auto sweepstakes bot) provide a shortcut to enter many sweepstakes in a very short time. They do it by collecting your data and filling it automatically to that website. It is not legal in any way. The main motive of sweepstakes is brand awareness and promotion. This way hide entrants from the organizer. So stay away from such shortcuts.
12. What kinds of prizes are not legal in sweepstakes?
Tobacco, drugs, and guns are not legal. Here on SweepstakeBible, we are not listing such sweepstakes.
13. How do I know if I am a winner?
It varies with every contest. Most companies will notify you by mail, either regular post or via a delivery service such as FedEx or UPS. Often you will first hear of your win when an affidavit arrives from the sponsor. Other sponsors will notify via telephone and generally, a small prize will be simply sent in the mail. The grand prize drawing may be held on or around 2-3 weeks after the end date of the sweepstakes. The winner is notified via direct mail or email with the contact details provided at the time of entry.
14. If I win and accept the prize package, will I be responsible for the delivery of the prize package?
This depends on the sweepstakes. You can check the official rules for more details. Check the authenticity before you pay any fees for delivery.
15. Why is my state/province restricted from entry?
Each state has its own rules for sweepstakes, occasionally making it more difficult for a sponsor/organizer to offer a promotion in a particular state. Generally, Florida, New York, and Rhode Island often are excluded because they have more strict laws for the high-value prize. Sometimes Alaska, Hawaii, the U.S. Virgin Islands, and Canada are excluded due to higher shipping costs for distributing a small prize. States of California, Tennessee, and Utah are very strict for alcohol-related sweepstakes. States of Massachusetts, Michigan, and Virginia are restricted for tobacco-related sweepstakes.
16. Does SweepstakesBible run the sweepstakes featured on this site?
No. SweepstakesBible brings together the best sweepstakes from the internet for your convenience. However, we are not involved in organizing contests or the awarding of prizes in any way. Once you click the 'Enter to Win' link, you leave this site and are taken to a third-party website over which we have no control. You should use your sense while entering any sweepstakes.
17. Does anyone really win these contests?
Yes. There are hundreds of people who win sweepstakes every day. They get small prizes like a T-shirt or CD, to life-changing prizes like a new car, Vacation, house, or a million-dollar cash prize. There is no guarantee that you will win the next sweepstakes and also not assurance that you won't win. Some retired person or freelancers wins regularly, as they daily enter in few sweepstakes.
18. How to promote your own sweepstakes?
There are various sweepstakes websites those aware of participants of the US about new sweepstakes every day. Sweepstakesbible.com is one of them. The main motive of sweepstakes for the organizer is to get as much as participants possible. The more you get, your brand will more be promoted within the same prize amount.
Submitted by admin on August 3, 2019 04:19am
<![endif]--> <![endif]-->