Sweepstakes Scams: 8 Useful Tips to Avoid Carefully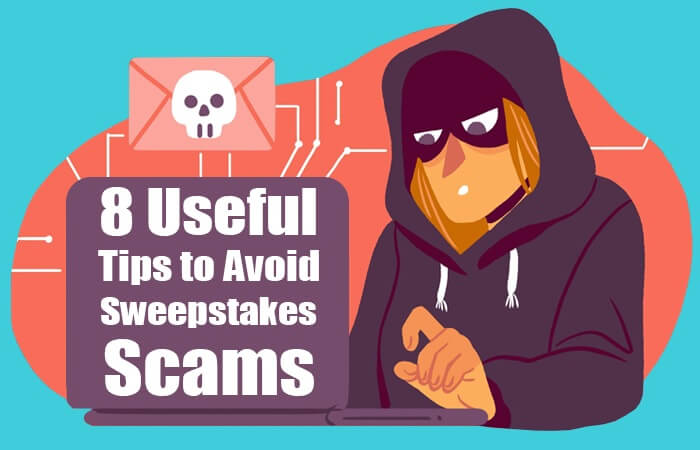 Most sweepstakes and contests facilitate entrants with a legitimate chance of winning amazing prizes. However, there are also a few fake sweepstakes and contents that trap you in the lure of winning.
It is vital to identify the signs of sweepstakes con to stay protected against being a victim of a scam. Not just for the participants but these scams are also harmful to the owners of the sweepstakes. It may ruin their brand's reputation. Typically, sweepstakes scams persuade people that they are winners; however, they are actually not.
From 2018, more than 4,400 sweepstakes, as well as lottery scams, are already reported to the BBB Scam Tracker. We have evaluated several ways that scammers use to trap entrance, read them to avoid sweepstakes scams.
1. Avoiding scams from the start
One of the most effective ways to decrease the odds of falling into a trap of sweepstakes scam is to protect your personal information. Generally, scammers obtain your email address from illegitimately published lists, by searching them from the internet, and by few more tactics. However, you can be wary of this by taking an effective first step. Use a dedicated sweepstakes email.
Several sweepstakes that allow you to enter repetitively make you select a username and password to speed up the recurring entry process. Utilizing the same password which you use for other websites, chiefly those with sensitive details like your online banking services, is a huge error. In case that site got hacked, certainly, your sensitive passwords will be in hands of fraudsters.
2. Protect your privacy
When entering sweepstakes, you need to be extremely wary to protect your privacy. It is possible to decrease the amount of superfluous marketing that you obtain from entering sweepstakes. For example, if you are frequently receiving unwanted emails from some sweepstakes then make sure to unsubscribe. This must be done regularly to ascertain that it becomes easy to find out the real win intimations.
In addition to email, telephone privacy should not be ignored. You may receive a few marketing telephone calls about entering sweepstakes. It is recommended to protect your phone number and not to give it to the one you suspect about reliability.
3. Stay away from paying money to claim your prize:
Trustworthy sweepstakes or contests would never ask you for money to claim their prize. Make sure to never send out money to pay for the fees or taxes on the lottery or prize winnings. Generally, legal sweepstakes don't demand money from you or will not ask you to buy something in lieu of entering or enhancing your winning odds. Also, they will not ask for paying taxes or processing fees to bestow you with prizes.
For example, the scam sweepstakes sent mailers that made people ponder that they had won around $1 million or more. Moreover, they make people pay a small fee for claiming the prize.
4. Avoid calling unauthentic sweepstakes phone number
Make sure not to call a provided phone number for the sweepstakes or contest details if you have not verified its authenticity. It is vital to first confirm the authenticity of an online search. Keep in mind to avoid any numbers having a 900 area code because it results in excessive charges every minute. Some fraudster sweepstakes' telephone numbers may direct you to the telephone number with the aforementioned area code.
5. Fake Check Scam: 90% of users trap here
The scammer sends you a check-in email with the instructions to transfer some amount (on a name of winner confirmation) to the sweepstakes. Beware of such checks as they are fraudulent checks you may pay small fees to that scammer but caught in crime for cashing fraudulent checks. Deposit of such checks will lead you to a hefty fine from the bank or even closure of your bank account. Take time and do research before withdrawing the cash from the bank. Don't be hasty and first of all, verify the name of the corresponding company or those sweepstakes. Make sure not to take out or deliver funds from a check in your bank account till it is not formally cleared.
Legit sweepstakes sponsor will require affidavits before sending any prize over $600.
6. Be wary about sweepstakes scams on social media
Social media is the trendiest place to post sweepstakes. Additionally, it is the new target for sweepstakes scammers. For scammers, it is not tough to make a fake Facebook page that pretends to be a well-known company, TV series, etc. Some people may mistakenly like that fake Facebook page. Consequently, it becomes easy for sweepstake scammers to persuade you easily that you have won a prize. Especially on Twitter, it can be tough to differentiate between genuine and fake wins. If you suspect any fake page then stay away from it.
7. Avoid foreign sweepstakes
Be extremely wary of international contests that claim that the fees are vital because of international law. Moreover, stay away from playing the foreign lottery because it is illegal.
8. Don't feel pressured
Feeling pressured and making an instant decision for entering a contest or sweepstake leads to problems later on. Also, don't feel pressured when making a purchase or giving a donation.
9. Identify the Real Winning Email
Many scammers become smart as they started using real company email format with logo, so users can easily be trapped in the scam. In such a case you need to check the email address, the scammer uses the company name as a user by using Gmail, yahoo mail, AOL Mail services. The real company email is always from the company's official domain site. For e.g., if you won the HGTV sweepstakes then you get an email from [email protected], not [email protected].
Sponsor always sends personalize email for the winner, while scammer uses a general greeting like "Dear winner" because they have to send the same email to thousands of people.
Real winning email does not have any grammar mistakes while fake have so many.
10. Sweepstakes scams pressurize you
The legit sweepstake gives a week to a month period of time to claim the prize but the Sweepstakes scammer tries you to act in hurry in order to claim the prize otherwise you will lose your chance to claim.
What to check if you got an email of win?
Have you entered that sweepstake?
Does it have an official rule?
Do the official rules have mentioned the same sponsor you got an email from?
In order to claim the prize sponsor never asks for any kind of payment from you.
Where to report a sweepstake, lottery, or prize scam:
Federal Trade Commission (FTC): ftc.gov/complaint or 877-FTC-Help
Better Business Bureau: BBB Scam Tracker at bbb.org/scamtracker
Internet Crime Complaint Center (IC3): ic3.gov/complaint/default.aspx
Canadian Antifraud Centre: 888-495-7597
United States Postal Inspection Service: postalinspectors.uspis.gov or 1-877-876-2455. Postal Inspectors might help you if scammers have used the mail service during any part of the fraud. Also, they have counselors trained to help recurrent or chronic victims. Call your local postal inspection office to check if they can offer counseling assistance.
Senate Subcommittee on Aging Fraud hotline: 1-855-303-9470
Adult Protective Services helps older adult victims or other susceptible adults and has offices in every state and several counties. Find a local office at elderjustice.gov.
Just stay cautious whenever you get a win notice. Make sure not to share your sensitive personal details or pay any amount to claim the prize unless you find the sweepstake to be legitimate.
It may feel thrilling to win but consider every prize notification carefully and verify its reliability to stay away from sweepstakes scams.
Submitted by admin on December 23, 2020 06:11am