15 Websites to Create Sweepstakes Instantly! No Coding Required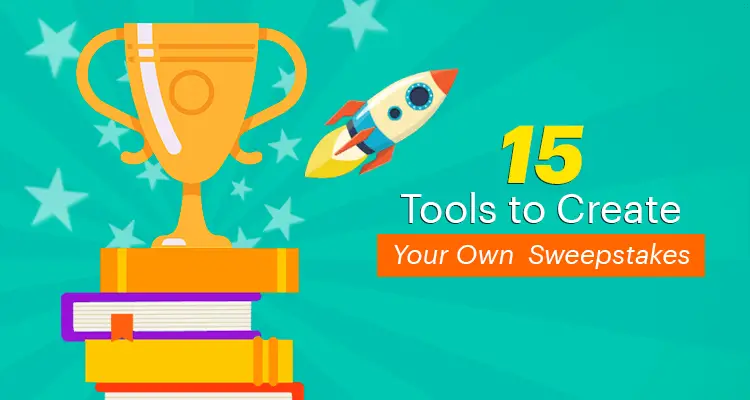 Want to create an online contest for free without any coding on your site? Check out the best software that helps you design new giveaways and help you promote your brand.
Are you ready to run a social media giveaway contest for the first time on your page? Are you wondering how to run a giveaway and make it a success? If you are doing it for the first time, then you might have thought that these contests and quizzes need the money and special codes to run. A lot of business owners think that without using any codes, they will not be able to run a contest. But that is not true at all. Creating a giveaway or contest might seem difficult, it's actually not. When you use the right contest software, it makes the process simpler.
Basically, if you are a beginner in creating and running a contest on social media, then taking help from some useful tools will be important. With free or nominal charges any kind of sweepstakes can be created with the right tools. Even, it does not need any sort of coding for the instant launch of contests. With the help of useful tools with exceptional features, you will be ready to get a chance to grow your website traffic, email subscribers, and social media followers.
15 Useful Websites to Create Viral Sweepstakes without Coding
1. Shortstack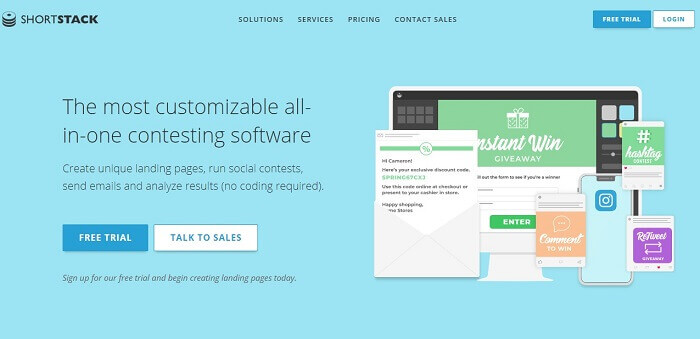 If you are considering choosing a powerful all-in-one tool to run your social media contest, then using Shortstack is the ideal choice for you. From Instagram and Twitter hashtag contests to Facebook giveaways, you can run each and everything over there. There are almost 90 templates and 30 themes available that helps you to create your giveaway campaign. It also has a drag and drop functionality, which can be used by anyone (even not the tech-savvy people). This comes along with detailed analytics, verified voting, and the option for restricting voting, making Shortstack the perfect choice for your social contests.
Features
All-in-one campaign dashboard
Automated Participant Engagement with follow-up and scheduled email
Powerful landing page builder
Easily collect user-generated content
Embeddable contests
Campaign popups
Built-in Analytics for campaign success measurement
100 entry allowance
Random Entry Selector automatically selects a winner for you
Create landing pages for your contest
20+ Built-in themes with 65+ professionally designed templates
Email and live chat support
Easy to use style panel to create contests
Customize your design with different fonts, colors, size, and more
Stops repeated entries to reduce cheating and protect against fraud
Leads are saved in a searchable, exportable database
Drag and drop builder with 30+ widgets
No-code Campaign Customization
Simplified Client Management
Types of Campaign you can create
Entry Form Giveaway
Photo Contests
Instant Win Contests
Refer-a-friend Contests
Points For Actions Contests
User-Generated Content
Voting Contest
Hashtag Contests
Comment Contests
Retweet Contests
Facebook Contests
Instagram Contests
Twitter Contests
2. Woobox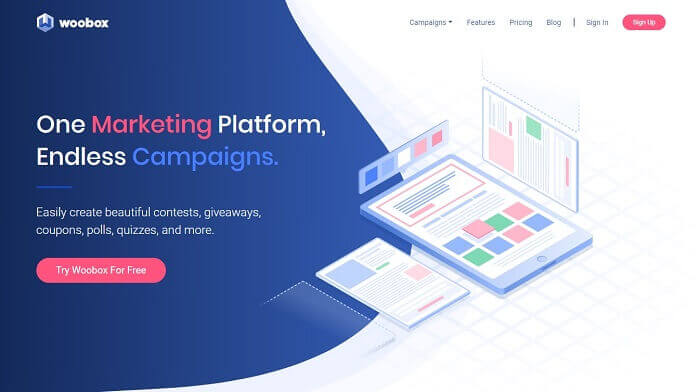 Along with Shortstack, Woobox is one of the excellent ideas to consider if your marketing strategy uses Facebook contests. Not just Facebook, but Woobox is also perfect for the other famous social platforms containing Vine, YouTube, Instagram, and Pinterest. There are some of the ready-made campaigns that can assist you to get started, such as personality quizzes, poll posts, coupons, sweepstakes, and more. This is actually a very simple process to set up a social contest. Woobox has the feature drag and drop functionality to assist you in customizing your campaign and infuse your branding elements, such as your marketing image.
Features
Customizable templates to get you started
Create unlimited campaigns
Integration with 500+ tools like Zapier, Mailchimp, and more
Collect entries from hashtags, likes, or comments on social media platforms
Use embed codes to place a contest anywhere on the website
Easy participant management
WordPress plugin
Automation options
Campaign optimization
Select a winner with its Winner Picker Tool
Mobile responsive
Create a dedicated landing page for your giveaway
Promotion Statistics
User Friendly Design
Campaign popups
Drive traffic from social posts directly to a dedicated landing site
Types of Campaign You can Create
Entry Form Giveaway
Photo Contests
Video Contests
UGC Contests
Hashtag Contests
Polls
Instant Win Contests
Facebook Tabs
Brackets
Coupons
3. Gleam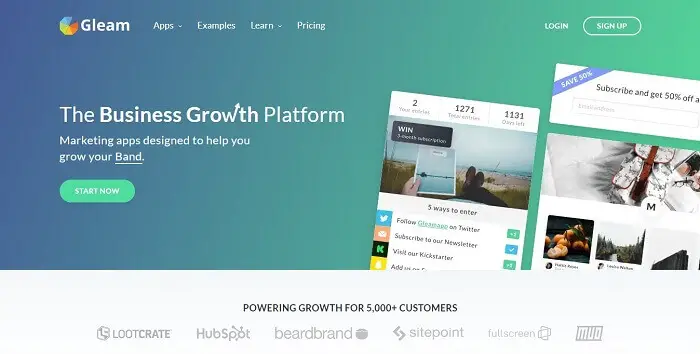 Gleam is considered as one of the important and pivotal platforms, which offer four apps based on the competitions, rewards, social galleries, and email capture. Run competitions, sweepstakes, and also add prizes. You can actually utilize the action combinations, social media integrations, and widget features. You will be able to pick the winner and then announce this from the dashboard itself. They also have three major plans and you can easily start with pro competition. It is also one of the simplest platforms to create and manage contests. However, this does not have a WordPress giveaway plug-in.
Features
Customize your design with a drag and drop builder
Mobile responsive giveaway widgets
Verifies social accounts automatically
Automatically monitors and detects fraud
Install your giveaway on your website, Facebook, select a custom landing page
Reach more potential entrants by letting users refer their friends
Responsive down to 320px to support a mobile-friendly experience
Google Analytics integration
Display the winner on the widget
Pick winners randomly or award manual entries
Multi-language support
Build powerful competitions
Instant redeem embeddable rewards
Responsive social galleries
Email capture
Social and email integration
WordPress Plugin
Lets you to embed a YouTube video to be more interactive
ly API integration
Smart Notification Emails
Unlimited Entry Method Combinations
Types of Campaign You can Create
Entry Form Giveaway
Photo Contests
Instant Win Contests
Refer-a-friend Contests
Voting Contest
Crowdfunding Contests
Facebook Contests
Instagram Contests
Twitter Contests
Youtube Contests
4. Rafflecopter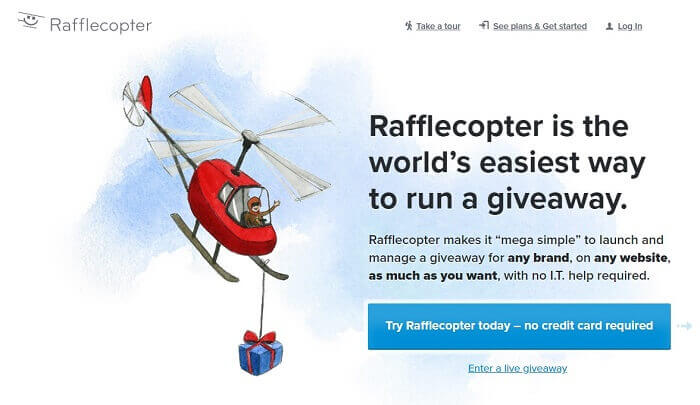 It is known as one of the easiest and simplest ways to get the contest running in a proper manner. If you want to use the best site to run the contest, then using this platform is quite amazing. For ease, speediness, and also efficient acts, one can utilize this one. You will be able to launch a giveaway in under three minutes, and this is simple to integrate into your website. This is also simple to incentivize your contest with one-click integration along with all the popular social media platforms.
Features
Advanced theming engine
Advanced typographic control
6 language integrations
1-click integrations with all major social networks
Bonus entries
White labeling
Works in any timezone
Excel exporting
Terms & conditions builder
Multiple EntryOptions for all kinds of tasks.
Email List Integration
Take your promotions viral with powerful Refer-A-Friend
Export giveaway entries into a .csv / excel file
View/moderate entries from your dashboard
Create unlimited giveaways
Mobile-Friendly Facebook App
No coding required
24-hour email support
Types of Campaign You can Create
5. Wishpond
To handle all the marketing requirements for your business along with social contest tool, you can consider Wishpond. Similar to Woobox, Wishpond provides a selection of various marketing tools like pop-ups and forms, landing pages, and marketing automation features with contests and promo codes to engage your audience. Setting up your whole giveaway process is very simple using your own branding colors and visuals. In fact, using your own WordPress website, you can actually use their plugin to hold contests on your site. Once the whole giveaway process is done, Wishpond gives you a real-time report in the merchant dashboard at your site.
Features
300+ integrations with email marketing platforms, CRMs, payment processors, and more
Easy-to-use drag-and-drop campaign builder
Simple interface and very easy to use
Landing pages
200+ templates for landing pages, social contests, forms and popups
Popups & forms
Contests & promos
Mobile-responsive
Marketing automation
Email drip campaigns
A/B testing
API access
WordPress plugin
Selection of well-designed templates
Real-time report in your merchant dashboard
Lead management
Analytics/ROI Tracking
Website Visitor Tracking
Customizable CTAs
CRM integrations
Custom JavaScript
Custom CSS
Phone, email and live chat support
No coding required
Types of Campaign You can Create
Entry Form Sweepstakes
Photo Contests
Bonus Entry Contests
Instagram Hashtag contests
Coupons
Referral Contests
Voting Contests
Leaderboard Contests
Photo caption contests
Video contests
6. Vyper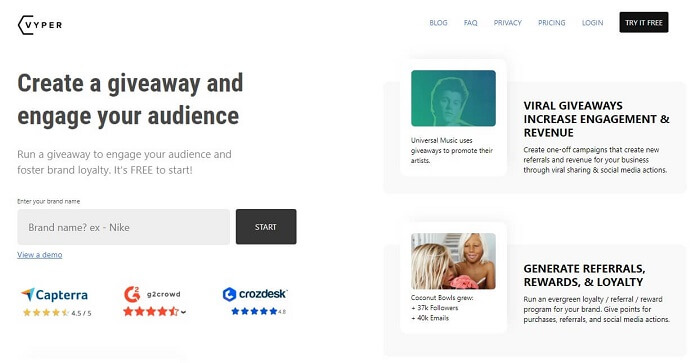 Vyper is known as the referral marketing platform, which permits you to run several different types of social media contests such as leaderboard contests, viral contests/giveaways, user-generated content, and milestone contests. You can easily do your giveaways with Vyper contest builder. From creating a super easy campaign to changing the style and then select how you would like your contest to display can be done through Vyper. Just like other platforms, Vyper also verifies the entries to the contests where you need API integration. An entrant can also use the refer-a-friend options to increase the visibility of the contest.
Features:
Customize all Fields
Landing Pages/Web Forms
Subscriber Management
Do CSV exporting
Make translations
Send emails without leaving the platform
Make the winner draw
Make CSS modifications
Viral content creation
Optionally leaderboard inclusion
Bonus entry options to add buttons
Refer-a-friend style entries
Email follow-ups
Milestone rewards
Translation to any language
Mail Integrations
Cheater / Fraud Detection
Contest Embed
Pixel Tracking
Custom Entries / Actions
Subdomain
Types of Campaign You can Create
Entry Form Giveaway
User-generated Content
Milestone Contests
Leaderboard Contests
Reward/Loyalty Programs
Skills Contests
Social Promotions
7. Heyo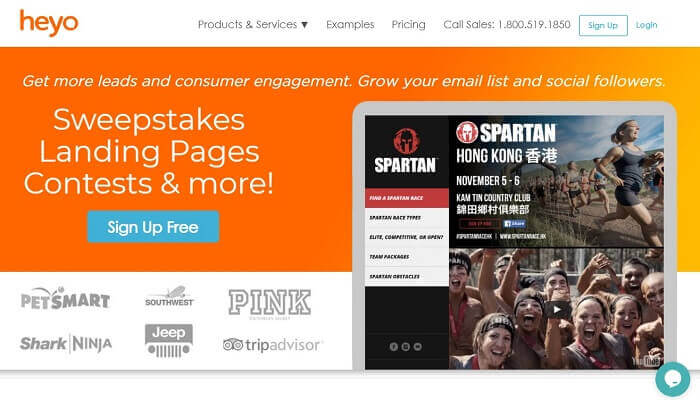 Heyo is one of the popular tools to make the contests to be published on your blog or website, on mobile or on various social networks like Facebook, Twitter or Instagram. You can utilize their template to create your preferred contests. Creating campaigns and optimization is also easy. Using Heyo, you can create essay contests, photo & video contests. Publishing your sweepstakes contest on the various online platform and start collecting leads will help you to draw the winner at a random. Here, the entrants can also refer their friends to participate as well.
Features
Flat design templates
Fast setup and quick publication
Visual editor
Customized email templates
GEO IP settings
3rd party email integration
Landing Pages/Web Forms
Social Marketing
Customizable CTAs
Drip Campaigns
Dynamic Content
Sales Intelligence
Simple and intuitive to use
Drag and drop design editor
Campaign Specific Analytics
Types of Campaign You can Create
Entry Form Sweepstakes
Photo Contests
Video Contests
Hashtag Contests
Instagram Contests
Random-draw sweepstakes
Refer-a-friend sweepstakes
Instant-win
Trivia Quiz
Twitter Sweepstakes
Photo Sweepstakes
Essay Contests
MultiFormat Contests
Viral Sweeps
8. Pagemodo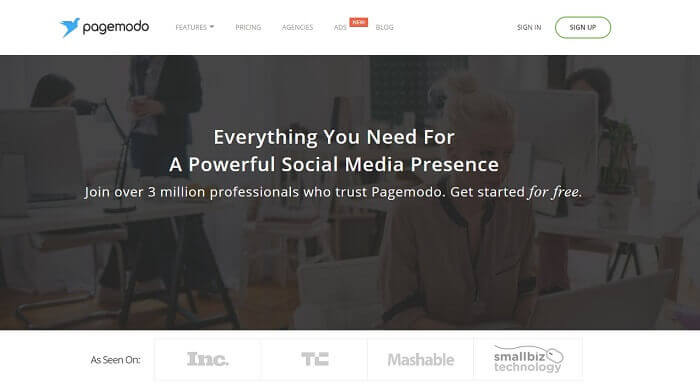 It is also one of the popular online tools for them who want their social media page on the next level. This particular tool is helpful in offering custom tabs for pages and making social media contests. You can also use this to schedule and plan your Twitter or Facebook content. In this tool, setting up the contests is very simple to set up and you will be able to make all kinds of different contests such as essay, photo, video, and coupon campaigns. It helps in growing interaction and awareness of the contests.
Features:
Quick and easy to use without any coding
Professionally designed template that matches your brand and the type of Facebook promotion
Manage, track, and create giveaways with a simple interface
Google Analytics
User-friendly design tools
Unlimited Scheduled Posts
Facebook Cover Photo Designer
Premium Email & Phone Support
Unlimited Facebook Custom Tabper Page
Select winners randomly
Use tracking data to see contests performance
Giveaways that comply with Facebook rules
Custom Tab Builder & Hosting
Post Designer & Post Suggestions
Types of Campaign You can Create
Entry Form Sweepstakes
Engaging Contests
Enticing Coupons
9. Easypromos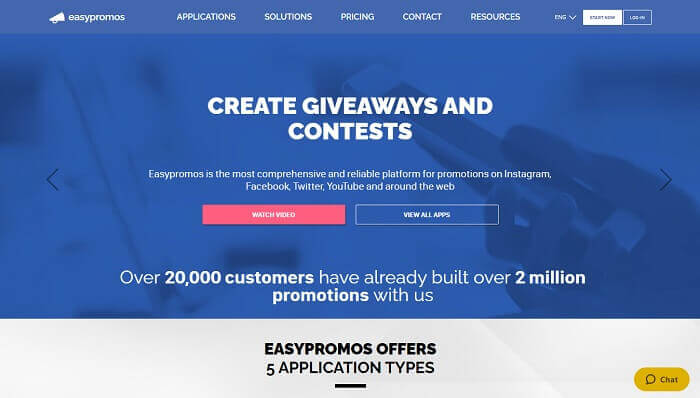 Just like other tools, you can also create contests for your social media pages. But apart from just making contests, you can make the sweepstakes direct giveaways without a hassle. It does not take much time to create contests. There are some other options available for the entry forms for giveaways, user-generated-content contests, and games-list such as polls and quizzes. This tool has 5 different categories such as instant win games, giveaways, contests, surveys, quizzes and coupons, and codes. You can choose any of the categories to create your content without any hassle.
Features
Mobile responsive designs and widgets
Analyze contest data with detailed reports
Control and minimize frauds
Support 30+ languages for multilingual promotions
Create giveaways with influencers, brands, and sponsors
Exclusive contests combining Facebook, Twitter, and Instagram
Use marketing products like surveys and polls
100% responsive and mobile-friendly
Can be used on WordPress with a widget
Create giveaways with collaborators like influencers, sponsors, and brands
Unbranded & customized white label promos
Exclusive promotions with a valid code
Select & publish the winners with a certificate of validity
Statistics & graphics of results
Self-service control panel for managing promotions
Customer service available 24x7 x 365
Automatized sending of emails to participants
Types of Campaign You can Create
Entry Form Giveaway
Instagram Giveaway
Facebook Giveaway
Twitter Giveaway
YouTube Giveaway
Multi-Network Giveaway
List Giveaway
Event Giveaway
Photo Contest
Video Contest
Writing Contest
Mention + Hashtag
Hashtag + Entry Form
Pick your Favorite
Instant Win
Refer a Friend
Puzzle Games
Memory Games
Match it Games
Wordsearch Games
Hidden Objects Games
PhotoFun Games
Scenes Games
Spin the Wheel Games
Survey
10. Wyng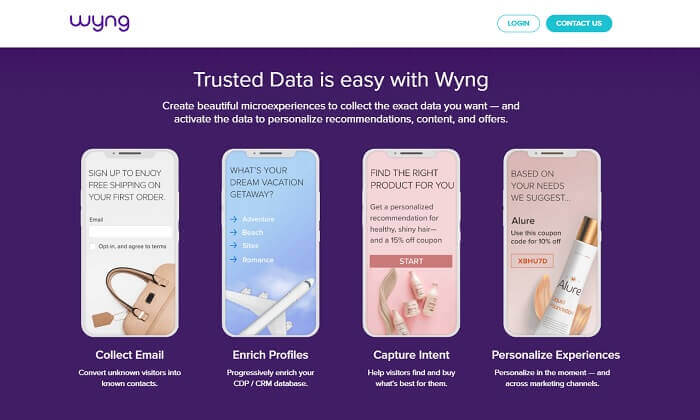 To create instant win games contests, sweepstakes, video and photo contests, and caption contests, you can use this tool. This is extremely helpful to create meme contests as well. Without taking much time, this can help you to create your contest. This allows you to enable multiple methods of the entry containing Twitter, Instagram, and direct upload. This also has a refer-a-friend option so participants can share the contests with others, which helps to increase the visibility of your social media account.
Features
Pre-built use cases and powerful drag & drop components to create a beautiful, enticing promotion
Selection of well-designed templates
Built-in, automated fraud prevention, and fraud detection
Create and customize digital, mobile, and social campaigns
Add custom tags to user-generated content within its dashboard
Integrations with platforms like SproutSocial and Salesforce
Embeds to your web page
UGC gallery
Landing pages for your online giveaway competition
Email Marketing
Automated winner selection
Generate and export reports, or automatically feed the data to another system.
Types of Campaign You can Create
Entry Form Giveaway
Instant Wins
Loyalty & Code-Based Promotions
Photo Contests
Video Contests
Caption Contests
Meme Contests
11. Votigo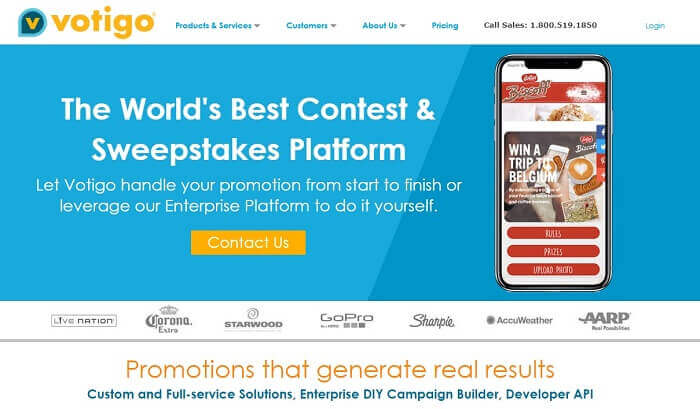 Votigo permits to create interactive and exciting marketing campaigns containing quizzes, giveaways, polls, contests, and sweepstakes. In terms of contests, you will be able to create the video, photo, hashtag campaign, Instagram contests, and essay contests as well. There are some of the instant win contests are also available, which assists you in enhancing the visibility of your social media page.
Features:
Mobile-friendly Design Templates
Multi-Language Support
Unlimited Campaigns
Easy Campaign Builder
Real-Time design & Preview
One-Click Publishing
Embed
Landing Pages & Forms
Email & Phone Support
Live Training Session
Developer API Access
CRM Integration
ESP Integration
Single Sign-On Options
Custom Integrations
Social Conversation Management
Fraud Detection
No coding skills required
Pick-a-winner features
Over 20 campaign types
Easy customization
Proven turnkey templates
Types of Campaign You can Create
Entry Form Giveaway
Instant Wins
Photo Contests
Video Contests
Hashtag Contests
Instagram contests
Essay contests
Random-draw Sweepstakes
Refer-a-friend Sweepstakes
Trivia Quiz
Twitter Sweepstakes
Viral Sweepstakes
12. Strutta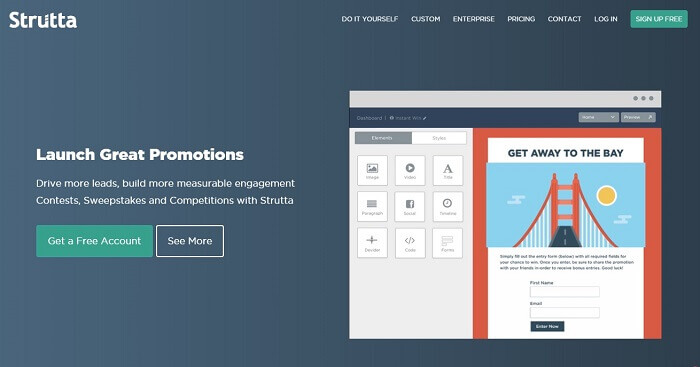 Strutta is a very popular platform to launch sweepstakes, contests, and competitions. It collects all the entries from Facebook and Instagram pages through hashtags. To use this tool, you will have to choose a promotional model and then select options to customize as well. All promotion types on Strutta contain CSS control, entry form customization, social sharing, drag and drop, Google Analytics integration, promotion tracking, and multichannel capabilities.
Features
CSS control
Entry form customization
Drag and drop builder
Social sharing
Promotion tracking
Over 20 Campaign Types
Free to Preview
Easy Campaign Builder
Real-Time design & Preview
One-Click Publishing
Landing Pages
Google Analytics integration
Multichannel capabilities
Unlimited Campaigns
UGC Moderation Tool
Basic Campaign Analytics
Downloadable Reports
Leads/Entries Export
Multi-Format UGC Contests
14 Languages Support
Full Campaign Analytics & Reporting
Email & Phone Support
Live Training Session
Types of Campaign You can Create
Entry Form Sweepstakes
Instant Wins
Photo Contests
Video Contests
Hashtag Contests
Instagram contests
FacebookContests
In-Store Giveaway
13. TabSite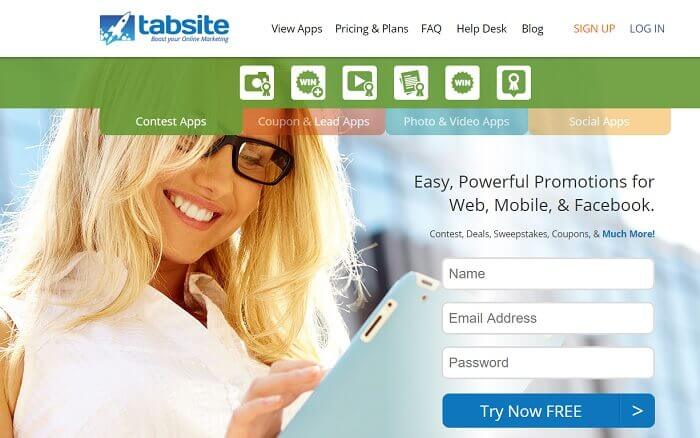 To promote your social media accounts with the help of an effective tool, you can actually use TabSite without a doubt. From allowing you to create the photo, video, essay, hashtag, and other contests on your social media page, it also lets you make and manage promos on the website, blog, or other social media page. It offers very simple setup apps and a particular system for customized design without coding. Features contain the ability to run sweepstakes, import a blog, add YouTube videos, add some of the product slideshows, run photo and video contests, like, and more.
Features:
Drag N Build page interface for pixel-perfect design
No coding or programming required
Custom-named tabs
Custom tab icons
Sub-pages (a mini-website within Facebook)
Facebook comments plug-in
Document manager
Google Analytics integration
Create fan-only content
Video embedding
Types of Campaign You can Create
Entry Form Sweepstakes
Instant Wins
Photo Contests
Video Contests
Essay Contests
Timeline Contests
14. KingSumo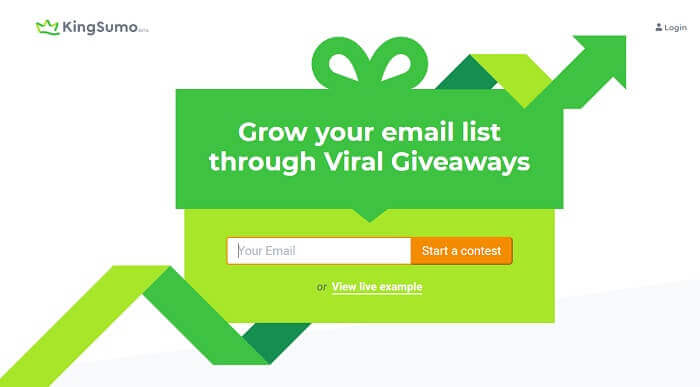 This is also a very easy-to-use app to promote your social media page and when it comes to creating a contest, you can get your hands on it without a doubt. Initially, this tool was built for internal company use, but after finding success, they have actually decided to release this for everyone. You will have to write a little bit about your giveaway and pick the number of winners you want.
Features:
Custom branding
Integration with Zapier
Customer support
One-click winner selection
Unlimited Giveaways
Embeds on Any Site
Upload Your Own Logo
Facebook Pixel Tracking
Set up your giveaway on your WordPress
Types of Campaign You can Create
15. RafflePress
When you think of choosing the most powerful and user-friendly Wordpress plugin for making sweepstakes, then RafflePress is one of the ideal options to choose from. There are plenty of features offered by RafflePress, even in the free version. You can make photo contests, video contests, essay contests, hashtag contests, quizzes, and polls.
Features:
Offers amazing free giveaway templates
Drag and drop builder to create giveaway contests
SEO optimized giveaway widget
Offers mobile responsive giveaway widget
Automated start and end times
Easily integrates with social media platforms
Fraud protection feature to remove fraud entries
1 Click Entry
Giveaway Landing Page
Tracking and Retargeting
Custom designs and backgrounds for giveaways
Create a giveaway landing page
Viral Sharing (Refer-a-Friend) feature to make your giveaway viral
Social login option where users can log in with their Facebook or Twitter accounts
Rule generator template to create contest entry rules
Lightning-fast operation from highly-optimized giveaway widgets to help with site speed, SEO, and conversion rates
Basic entry methods including Facebook page clicks, Twitter follows, visit a specific web page, and more
Email marketing and CRM integrations to easily connect your email list and get more email subscribers
Image submission entries (great for getting user-generated content)
Custom design options and backgrounds
No coding required
Types of Campaign You can Create
Entry Form Giveaway
Contest
Running a social contest is always a great way to boost your online business. You will have to pick the relevant social contest tool to run your contest.
If you want to arrange a contest, giveaways, and quizzes on a daily basis, then a fully-featured and robust tool is needed. Shortstack can be your go-to recommendation.
To choose a first-rate referral marketing platform, which also offers leaderboards, giveaways, contests, and loyalty campaigns to boost up your website, you will have to go with Vyper.
When you opt for the "all-in-one" tool, which creates traffic on your page by offering different types of contests, then Wishpond is a perfect tool to choose from.
When you are going to choose the simplest and useful tool, which offers a quick solution for doing giveaways, then Rafflecopter is the name to consider.
While opting for the plenty of entry options to grow your business with an easy way to create and run different contests, consider using Gleam.
If you want to avail flexibility with your campaigns and social media contests, selecting Wishpond is a great choice.
If Facebook is your main marketing platform for your business, Heyo is an amazing option, because it helps your mage to grow in a greater manner. You can also choose Woobox for the quick launch of games and contests.
Submitted by admin on October 2, 2020 08:18am
<![endif]--> <![endif]-->