PCH.com - Is publisher clearing house real or scam?
Publisher clearing house is not a newcomer in the market. It is 66 years old brand and was in magazine business with a unique selling point. They offer multiple subscriptions of magazines under the same roof.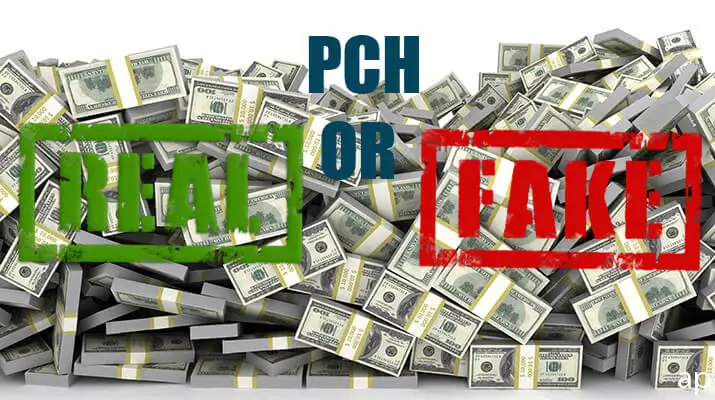 PCH Sweepstakes: Legit or Scam?
However, in the current market, it is more known for sweepstakes rather than magazines. The company is selling books, jewelry, and such consumer items. But in the 90s they started the idea of sweepstakes and promote their subscription with lots of junk mail. According to US regulation, Sweepstakes sponsor can't insist their participants to purchase any product or service. So the legal action was started and the company paid many settlements in all the states.
In 1995 when they announce a $10 million prizes they got all the attention that a magazine company can't get easily. As time goes the prize value increased and they spends around $3 to $10 million of prizes every year. And why not? They are still making a $1 Billion a year as per stated in businessinsider.in
So The number one question is answered: Yes they are real and prized are real.
When they started prize patrol in 1989, they documented visual proof in front of whole us. They started reality TV type video and surprise the winner by visiting their home or workplace. They have also included various celebrities like oprah winfrey in prize distribution to gain more and more trust.
Look at the video
In this prize patrol clip, they are giving many grand prizes and promoting a sweepstake in which you can win $5000 a week for the lifetime. Imagine it really change anyone's life forever.
They have also spent millions in lawsuit settlement and still making billions. So after all odds and government regulation, they somehow managed to continue their business model successfully. In one of the news report company representative said PCH has already distributed more than $400 millions of prizes till now and $50 million of fine in various lawsuits.
So, why some people complain about PCH scams?
Yes, PCH scam really exists. Not from the publisher's house, but there are several people who want to take benefits of your greed. They sends a fake letter of winner announcement to a random address, and hope someone to believe it is real.
Here two-letter images are given. The real one and the fake one.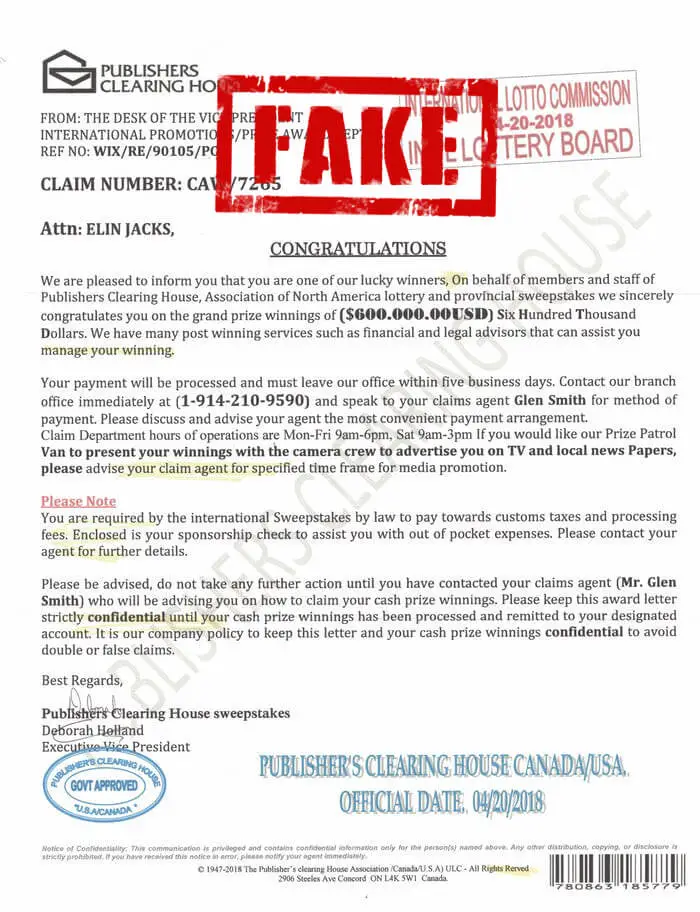 Fake one asks the winner to keep it confidential to avoid a false claims. It also tells you to ready to pay customs taxes and processing fees. It suggest to contact particular agent, who will manage your winning.
The real letter doesn't tell to keep secret. They will just confirm that you are not an employee or related to anyone inside the PCH. It is a notarized notice. And if you have any confusion you can verify with the company internal data. Call 800-645-9242 to verify your winning letter.
You may find lots of stories of fraud happens regarding PCH. Visit Mcall.com to read full details.
80 Years old Bucks County resident lost $6,800 in such scam. Read the above news to know how it happened.
So What the US Law says about Sweepstakes
Law ensures that companies can't force to buy anything to elder people in name of the winning prizes.
They must provide a way to enter free in any sweepstakes.
Promoters can't tell participants that they won't until they really didn't won anything.
Companies can't ask cheque/cash or any documents to process the winning
They can't use language that looks like promotion is related to government in any terms.
They must list legal details like name, address, contact number and sweepstakes rules to organize.
Never ever ask to purchase or purchase can increase chance of winning. There should be only chance of winning odds.
There should be clear instruction, terms and conditions and restrictions such as age, demography must be written.
They must provide winners list and accurate description of prize.
There is a restriction on promoting alcohol, tobacco, gas, finance and dairy
Must follow dates and timelines.
Must accept all the valid enteries
How to Identify fake or scam email?
Real email will not tell you to keep secret
Scam email will tell you to contact a particular person instead of department
Scam email will send you fake cheque to assure you
You got an email, but you didn't enter any sweepstakes recently. That is 100% scam.
The email will ask you to contact an agent instead of company
Scam email will ask processing fees or cheque cash deposit
Never trust an email that asks for a credit card or bank details.
You will get a stamp and sign in both real and scam email. So don't trust on stamp sign.
There might be multiple receivers of the email. Those are just spam.
The email is not intended to sole you. It might looks like general email. That can be sent to any person.
The email might goes to the spam section if they send them in bulk.
If you ever experience the scam or in the middle of confusion, you can report it. Send an email to [email protected] Or fill an online form. According to them scam is is a situation where you were contacted by someone claiming to represent Publishers Clearing House, or claiming to be a PCH staff and were asked to send or wire money or credit card details, send a pre-paid gift card or a Green Dot MoneyPak card, or cash a check and send a portion back to them as payment for any reason to claim a prize.
Here is how you can report the scam
Report PCH Scam: Click Here.
Video Guide: How to enter in PCH sweepstakes
Legit PCH sweepstakes to Enter in 2020
Win $250K every Year for the rest of your life
You can enter in this sweepstakes with daily entry limited to 1 per person.
You can win cash worth $100000, Daily entries limited to 1 per person.
Submitted by admin on June 20, 2020 02:02am
<![endif]--> <![endif]-->