Sweepstakes is closed.
Get Prize
Sweepstakes is neither easy nor Hard
$20,000
Sweepstakes is posted on :
Sweepstakes is available between :
19 September 2011 - 9:00am
-
30 March 2012 - 5:00pm
Local :
50 United States and the District of Columbia
ADVERTISEMENT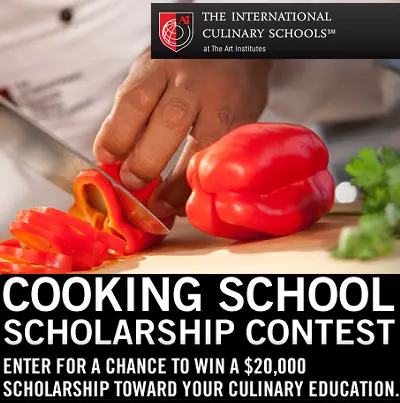 Now finding and winning culinary scholarships is not as hard as you imagine. Just you need to find the proper way and site where you may apply to win scholarships for your career. The Cooking School Scholarship Contest is a perfect way for you if you want to study the culinary arts and have interest in pursuing a culinary career. To encourage talented young chefs to hone their skills by getting the education that they need, Food Network has launched contest in which cooking experts are invited to submit their best an essay describing their passion for global cuisine and compete for the $20,000 cooking school scholarship from The International Culinary Schools at The Art Institutes that help you to turn your passion into a career. Grab this once-in-a-lifetime opportunity to excel in the cooking field and become one of the best chef by entering in the contest.
Limit: One entry is allowed per person or e-mail address. Participants must be 18 years old or older and have achieved a high school degree or GED equivalent.
Visit www.foodnetwork.com/scholarship during the entry period and fill out all required information including all contact information and an essay explaining what cuisines are you passionate about and how a scholarship from The International Culinary Schools at The Art Institutes could help you to increase your global cuisines knowledge, in maximum 2,000 words. Upon your submission of completed entry, one contest entry will be provided to you.
After contest entry period, top five Semi-Finalists will be judged on the basis of judging criteria by The Art Institutes. One highest scored finalist will be grand prize winner.
Grand prize winner will receive a $20,000 Cooking School Scholarship toward a certificate, diploma, associate's or bachelor's degree in the culinary arts at any of The Art Institutes US locations.
ADVERTISEMENT
You might also like :