Great Wisconsin Getaway Sweepstakes: Win A Trip Every Week
Expired.
Get Prize
13.8K+
You can do multiple entries on daily basis.
From : April 27, 2020, 7:00 am
To : July 5, 2020, 11:59 pm
50 U.S., the District of Columbia and Canada (excluding New York and Florida)
<![endif]--> <![endif]-->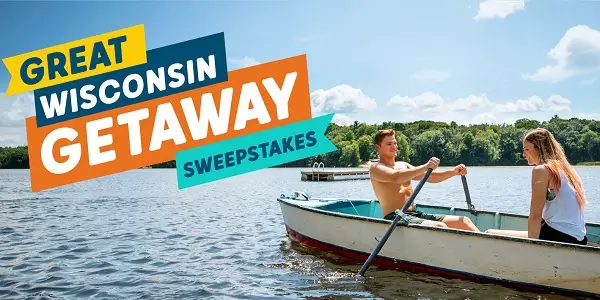 Sweepstakes is posted on :
Win Type :
Gift
Totla ARV Value :
$13796
Entry Type :
entries on daily basis.
Difficulty Level :
Very Easy ( 3 out of 10 )
Nowadays we all are practicing social distancing to limit the spread of COVID – 19. But once the situation gets back to normal, you can get out of your home and enjoy a vacation to Wisconsin that too free of cost. Wisconsin Department of Tourism is giving away a trip every week to use when travel resumes. All you have to do is enter the Great Wisconsin Getaway Sweepstakes to win 1 of 10 getaways.
Limit: The age of entrant must be at least 18 years at the time of entry. One entry per person per day is allowed during the promotional period.
How to Enter:
Visit www.travelwisconsin.com/great-wisconsin-getaway and follow the on-screen instructions to submit the registration form with the required details to receive one entry into the Sweepstakes.
Random Drawing Dates:
May 4, 2020, May 11, 2020, May 18, 2020, May 25, 2020, June 1, 2020, June 8, 2020, June 15, 2020, June 22,2020 , June 29, 2020 and July 6, 2020.
Prizes:
Week 1: Indie Eau Claire Getaway (Estimated $858 value)
(1) two-night stay at the Lismore Hotel
(1) $40 gift card to the Acoustic Café
(1) $50 gift card to Eau Claire's Experience Center
(1) $60 gift card to The Informalist
(1) $25 gift card to Lazy Monk Brewery
(1) $25 gift card to The Brewing Projekt
(1) $120 gift card to the Pablo Center at the Confluence
(1) $300 Eau Claire Chamber Bucks valid at a variety of shopping, food & beverage and attraction locations.
Week 2: Fresh Coast Getaway (Estimated $1,160 value)
(1) One-night stay at Blue Harbor Resort
(1) day pass to Kohler Andrea State Park
(1) $40 gift card to IL Ritrovo
(1) $20 gift card to Bookworm Gardens
(1) $80 gift card to The Duke of Devon
(1) $30 gift card to Field to Fork
(1) $60 gift card to The Wade House
(1) $40 gift card to Antoinette's
(1) $80 gift card to the Throttle Stop Museum
(1) $75 gift card to The Paddock Club
(1) One-night stay at Osthoff Resort with breakfast at Otto's Restaurant
(1) $20 gift card to the Rahr West Art Museum
(1) $60 gift card to the Wisconsin Maritime Museum
(1) $40 gift card to the Courthouse Pub
(1) $40 gift card to John Michael Kohler Art Center
Week 3: Driftless Charm Getaway (Estimated $1,649 value)
(1) two-night lodging at Castle La Crosse
(1) $30 gift card to La Crosse Distillery
(1) $60 gift card to Le Chateau
(1) $40 gift card to Shrine of Our Lady of Guadalupe
(1) $25 gift card to Full Circle Supply
(1) $65 gift card to La Crosse Queen Paddlewheeler
(1) $40 gift card to The Charmant
(1) $60 gift card to Dublin Square Irish Pub & Eatery
(1) one-day pass to Perrot State Park
(1) $40 gift card to Garden Pub & Grill
(1) $30 gift card to Elmaro Vineyards
(1) $30 gift card to Danzinger Vineyards
(1) $24 gift card to Castle Rock Arms & Armory Museum
(1) $60 gift card to Suncrest Gardens Farm
(1) one-night stay at Blue Door Inn
(1) $60 gift card to Great Alma Fishing Float
(1) $200 gift card to Sail Pepin
(1) $30 gift card to Villa Bellezza Winery & Vineyards
(1) $60 gift card to Sullivan's Supper Club
(1) one-night stay at Maiden Rock Inn, including breakfast
(1) $30 gift card to The Purple Turtle Artisan Collective
(1) $25 gift card to Maiden Rock Winery & Cidery
(1) $40 gift card to Stockholm Pie and General Store
Week 4: Craft Food & Brews Getaway (Estimated $955 value)
(1) $40 gift card to Waupaca Woods Restaurant
(1) $25 gift card to H.H. Hinder Brewing Company
(1) one-day pass to Hartman Creek State Park
(1) $120 gift card to Clear Water Harbor
(1) one-night stay at Crystal River Inn, including breakfast
(1) $100 gift card to Adventure Outfitters
(1) $40 gift card to The Wooden Chair
(1) $50 gift card to the Stevens Point Brewery
(1) $60 gift card to Father Fats Public House
(1) one-night stay at Cobblestone Inn & Suites, breakfast included
(1) $100 gift card to the Hostel Shoppe
(1) $40 gift card to Hilltop Pub & Grill
Week 5: Gaming in Green Bay Getaway (Estimated $952 value)
Champion Tour: Lambeau Field. Admission up to 4 people
(1) $40 gift card to 1919 Kitchen & Tap
(1) $60 gift card to The Cannery Public Market
(1) $20 gift card at Oneida Casino
(1) one-night stay at Lodge Kohler
(1) $30 gift card to The Pancake Place
(1) $60 gift card to Oneida Nation Longhouse Tour
(1) $40 gift card to Luigi's Pizza & Pasta
(1) $40 gift card to Menominee Logging Camp & Cultural Museum
(1) $20 gift card at Menominee Casino Resort
(1) one-night stay at North Star Mohican Casino, dinner and breakfast included
(1) $60 gift card to Potawatomi Carter Casino
Week 6: Iconic Wisconsin Dells Getaway (Estimated $1,113 value)
(1) $40 gift card to High Rock Café
(1) $20 gift card to Swiss Maid Fudge
(1) $100 gift card to Asgard Axe Throwing
(1) two-night stay at Wilderness Waterpark including waterpark passes, and 2 meals in resort restaurant
(1) $75 gift card to Ishnala Supper Club
(1) $70 gift card to over 200 businesses
(1) $40 gift card to Moosejaw Pizza & Dells Brewing Co
(1) $130 gift card to Dells Boat Tours
(1) $60 gift card to Double Cut Charcoal Grill
(1) $60 gift card to Circus World Museum
(1) $40 gift card to Tumbled Rock
Week 7: Gems of Southern Wisconsin Getaway (Estimated $2,065 value)
(1) two-night stay at Hotel Goodwin, including 3 meals
(1) $40 gift card to DC Estate Winery
(1) $25 gift card to Beloit Art Center
(1) $100 gift card to Adorn Janesville Boutique
(1) $40 gift card to Bushel & Peck's Local Market
(1) $20 gift card to Tour Beckman Mill
(1) $70 gift card to Bodacious Shops of Block 42
(1) $30 gift card to Double B Farm Café
(1) $28 gift card to Rotary Botanical Gardens
(1) $40 gift card to Lincoln-Tallman House
(1) $50 gift card to Drafthouse
(1) $75 gift card to Buckhorn Supper Club
(1) one-night stay at Cobblestone Hotel & Suites
(1) $25 gift card to Olbrich Botanical Gardens
(1) $30 gift card to Madison Museum of Contemporary Art
(1) $30 gift card to Citrus Café
(1) $40 gift card to Ian's Pizza
(1) $70 gift card to Camp Trippleindeie
(1) one-night stay at Graduate Madison
(1) $272 gift card to Talliesin
(1) $30 gift card to Short Stack Eatery
(1) $50 gift card to The Old Fashioned
Week 8: Escape to the Northwoods Getaway (Estimated $1,055 value)
(1) $40 gift card to Otto's Beer & Brat Garden
$120 in Chamber Checks to Minocqua businesses
(1) $60 gift card to Norwood Pines
(1) one-night stay at The Waters of Minocqua
(1) $30 gift card to Paul Bunyan's Cook Shanty
(1) Pontoon rental from Wild Eagle Resort
(1) $40 gift card from The Chanticleer Inn
(1) $70 gift card from The Blue Heron Restaurant
(1) one-night stay at Wild Eagle Lodge
(1) $92 gift card to have Coffee with the Captain on a Pirate Ship Cruise, includes breakfast and snacks
(1) $200 gift card for Go Carts or Horseback Riding at Rocking Kartway
(1) $40 gift card to Buckshot's Saloon & Eatery
Week 9: Ride the Rails Getaway (Estimated $1,749 value)
(1) one-night stay for four (4) on the Wisconsin Great Northern Railroad B&B, including dinner and breakfast.
(1) one-night stay at Camp NameKagon Cabin, including a River Trip
(1) $40 gift card to the Dock Coffee
(1) $30 gift card to Canoe Heritage Museum
(1) $60 gift card to Pine Brook Farm
(1) $30 gift card to River Street Family Restaurant
(1) $40 gift card to Longbranch Smokehouse & Grille
(1) 7 hour UTV rental through Wild Rivers State Trail rental
(1) $40 gift card to Hub's Riverbend
Week 10: Explore the Arts Getaway (Estimated $2,240 value)
(1) one-night stay at Kimpton's Journeyman Hotel
(1) $100 gift card to Harley Davidson Museum
(1) $75 gift card to Milwaukee Public Market
(1) $120 gift card to Harbor House
(1) $40 gift card to Café Benelux
(1) $60 gift card to Milwaukee Art Museum
(1) $40 gift card to Crossroads Collective
(1) $50 gift card to Lakefront Brewery
(1) $60 gift card to Dan Dan
(1) one-night stay at St Kate Arts Hotel
(1) $30 gift card to Collectivo Coffee
(1) $80 gift card to Discovery World
(1) $40 gift card to Stilt House
(1) $50 gift card to Cedar Creek Trading Post/Robin's European Cottage
(1) $60 gift card to Anvil Pub & Grill
(1) one-night stay at Washington House Inn
(1) $30 gift card to PJ Piper Pancake House
(1) $20 gift card to the Port Exploreum & Light Station
(1) $40 gift card to Dockside Deli
(1) $60 gift card to Twisted Willow Restaurant
(1) one-night stay at Harborview Hotel
(1) $35 gift card to Daily Baking Company
(1) $120 gift card to ZuZu's Pedals Bike Shop for Bike Rentals
(1) $40 gift card to Fork & Tap
<![endif]--> <![endif]-->
ADVERTISEMENT
YOU MIGHT ALSO LIKE
<![endif]--> <![endif]-->