Ebgames.ca Pull n Play Contest 2019
Expired.
Get Prize
140K+
You can do multiple entries on daily basis.
From : July 7, 2019, 12:01 am
To : August 3, 2019, 11:59 pm
<![endif]--> <![endif]-->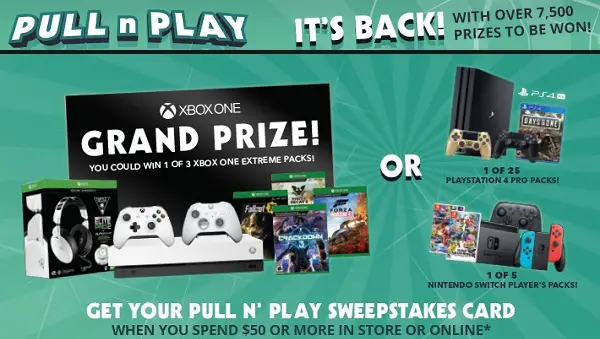 Sweepstakes is posted on :
Win Type :
Gift
Totla ARV Value :
$140000
Entry Type :
entries on daily basis.
Difficulty Level :
Moderate ( 5 out of 10 )
EB Games Pull n Play Contest is back! This year, it's bigger and better. You could win over 7,500 prizes including Xbox One, TV, PS4, Sony Playstation, hats, t-shirts, video games, Nintendo switch consoles, gift cards, prepaid cards and more. There are also 1000s of consolation prizes to win. Just, spend at least $50 at EB Games store or online store for the chance to receive a code to win.
Limit: You must 18 years of age or older at the time of entry. You may enter once per day during the Sweepstakes Period.
How to Enter:
To enter, you need a Contest tear card which can be obtained via two ways:
Purchase: Make a purchase of $50 or more at any EB GAMES store in Canada or online at www.ebgames.ca during the Contest Period to obtain a Contest tear card which will reveal a prize.
Mail-in (Free): Send a written request with a single self-addressed envelope with sufficient postage to: EB GAMES CANADA, Attn: PnP Marketing, 8995 Airport Road, Brampton, Ontario L6T 5T2. The Contest Card (which will reveal a prize) will be mailed to you using the self-addressed envelope you provided.
How to Claim a Prize:
Visit www.ebgames.ca/pullnplay or www.ebgames.ca/tirezetgagnez and enter the winning ticket number. After that, complete the online form with required details.
Prizes:
(3) Grand Prizes: Microsoft Xbox One X Extreme Prize Packs (ARV: $6,119.93 each)
Pack consists of the following items:
Xbox One X Fallout 76 White Console Bundle (ARV: $599.99 each)
Samsung 65" 4K UHD HDR QLED Tizen Smart TV Model # QN65Q90RAFXZC (ARV: $4,799.99 each)
Xbox One White Elite Controller (ARV: $189.99 each)
Turtle Beach Elite Pro 2 Xbox One Adaptor (ARV: $329.99 each)
Forza Horizon 4 Xbox One (ARV: $79.99 each)
Crackdown 3 Xbox One (ARV: $79.99 each)
State of Decay 2 Xbox One (ARV: $39.99 each)
(7,524) Secondary Prizes
(25) Playstation 4 Pro Prize Pack (ARV: $654.97 each)
Prize Packs consist of:

Playstation 4 Pro (ARV: $499.99)
Playstation Classic (ARV: $79.99)
Days Gone PS4 (ARV: $79.99)
Dual Shock 4 Gold (ARV:$74.99)
(140) Sony Playstation Classic (ARV: $79.99 each)
(5) Nintendo Switch Players Pack (ARV: $629.96 each)
Prize Packs consist of:

Nintendo Switch with Neon Blue & Neon Red Joy-Con (ARV: $379.99)
Mario Kart 8 Deluxe (ARV: $79.99)
Switch Super Smash Bros. Ultimate (ARV: $79.99)
Nintendo Switch Pro Controller (ARV: $89.99)
(20) Turtle Beach Recon 70N Headset for Switch (ARV: $54.99 each)
(10) Turtle Beach Recon 70P Black Headset for PS4 (ARV: $54.99 each
(10) Turtle Beach Recon 70P White Headset for PS4 (ARV:$54.99 each)
(3) Turtle Beach Elite Pro 2 Headset for Xbox One (ARV: $329.99 each)
(100) Activision Call of Duty Black Ops 4 PS4 games (ARV: $79.99 each)
(50) EA Battlefield V XBOX One game (ARV: $79.99 each)
(50) EA Battlefield V PS4 game (ARV: $79.99 each)
(1) Square Enix PS4 Prize Pack (ARV: $339.95)
Prize Packs consist of:

Just Cause 4 PS4 (ARV:$79.99)
Dirt Rally 2.0 PS4 (ARV: $79.99)
Metro Exodus PS4 (ARV: $79.99)
Killing Floor Double Feature PS4 (ARV:$49.99)
Nier Automata Game of the Year Edition PS4 (ARV:$49.99)
(1) Square Enix Xbox One Prize Pack (ARV: $299.96)
Prize Packs consist of:

Just Cause 4 Xbox One (ARV:$79.99)
Dirt Rally 2.0 Xbox One (ARV: $79.99)
Metro Exodus Xbox One (ARV: $79.99)
Final Fantasy X-X2 HD Remaster Xbox One (ARV:$49.99)
(1) Square Enix Final Fantasy X-X2 HD Remaster for Nintendo Switch (ARV:$59.99);
(6) Hitman 2 Collector's Edition XBOX One (ARV:$199.99 each)
(2) Hitman 2 Collector's Edition PS4 (ARV: $199.99 each)
(20) Ubisoft Switch Family Game Night Pack (ARV: $99.97 each)
Prize Packs consist of:

Hasbro Game Night NSW (ARV: $39.99
Monopoly NSW (ARV: $29.99)
Jeopardy & Wheel of Fortune NSW (ARV: $29.99)
(10) Ubisoft Far Cry PS4 Game Pack (ARV: $149.96)
Prize Packs consist of:

Far Cry 5 PS4 (ARV: $49.99)
Far Cry New Dawn PS4 (ARV: $49.99)
Far Cry 4 PS4 (ARV: $24.99)
Far Cry 3 Remastered PS4 (ARV: $24.99)
(10) Ubisoft Tom Clancy Game Pack (ARV: $149.97 each)
Prize Packs consist of:

Tom Clancy's The Division 2 PS4 (ARV: $79.99)
Rainbow Six PS4 (ARV: $39.99)
Tom Clancy's Ghost Recon Wildlands PS4 (ARV: $29.99)
(10) Ubisoft Tom Clancy Game Pack (ARV: $149.97 each)
Prize Packs consist of:

Tom Clancy's The Division 2 Xbox One (ARV:$79.99)
Rainbow Six Xbox One (ARV:$39.99)
Tom Clancy's Ghost Recon Wildlands Xbox One (ARV: $29.99)
(10) Ubisoft Assassin's Creed 3 Remastered PS4 (ARV:$49.99 each)
(10) Ubisoft Assassin's Creed 3 Remastered XBOX One (ARV:$49.99 each)
(10) Ubisoft Assassin's Creed 3 Remastered NSW (ARV:$49.99 each)
(20) Ubisoft Just Dance 2019 NSW (ARV:$39.99 each)
(20) Ubisoft Just Dance 2019 XBOX One (ARV:$39.99 each)
(15) Biogenik PS4 Accessory Bundle 19 (ARV:$49.99)
(15) Biogenik XBOX One Accessory Bundle 19 (ARV:$49.99)
(15) Biogenik NSW Accessory Bundle 19 (ARV:$49.99)
(15) Biogenik NES Classic Wireless Controller (ARV:$14.99)
(15) Biogenik Battle Royale Pack (ARV:$69.99)
(50) Hasbro Star Wars Black Series Storm Trooper Helmet (ARV:$89.99 each)
(3) Mattel Pokemon Detective Pikachu Play Pack (ARV: $110.96 each)
Prize Packs consist of:

Large Movie Playset (ARV:$39.99)
Medium Detective Pikachu (ARV: $32.99)
Detective Pikachu's Playset (ARV: $24.99)
Character Assortment (ARV: $12.99)
(3) Mattel Harry Potter Fashion Dolls Pack (ARV: $209.94 each)
Prize Packs consist of:

Harry Potter Fashion Doll (ARV:$34.99)
Hermione Granger Fashion Doll (ARV:$34.99)
Ron Weasley Fashion Doll (ARV:$34.99)
Ginny Weasley Fashion Doll (ARV:$34.99)
Dumbledore Fashion Doll (ARV:$34.99)
Professor McGonagall Fashion Doll (ARV:$34.99)
(100) L.O.L. Surprise Lils (ARV: $10.99 each)
(1,300) of any Echo single pack of Trading Cards (ARV: $6.99 and under each)
(400) Funko POPS (ARV: $14.99 and under each)
(200) Assorted Single Hats (ARV: $24.99 and under each)
(200) Assorted Single T-Shirts (ARV: $24.99 and under each)
(500) Assorted Blind Packs (ARV: $19.99 and under each)
(1) Fortnite Dark Bomber 7" McFarlane Figure (ARV:$29.99)
(1) Fortnite Jonesy 7" McFarlane Figure (ARV:$29.99)
(1) Fortnite Mako Glider Deluxe Accessories Pack (ARV:$24.99)
(1) Stranger Things Barb 7" McFarlane Figure (ARV:$27.99)
(1) Stranger Things Deluxe Ghostbusters Figures 4 pack (ARV:$89.99)
(1) Tokyo Ghoul Ken Kaneki 7" McFarlane Figure (ARV:$29.99)
(1) Star Trek Captain James T. Kirk 7" McFarlane Figure (ARV:$24.99)
(1) Fortnite Omega 7" McFarlane Figure (ARV:$29.99)
(1) Fortnite Carbide 7" McFarlane Figure (ARV:$29.99)
(1) Fortnite Wild Card (Red) 7" McFarlane Figure (ARV:$29.99)
(1) Fortnite Wild Card (Black) 7" McFarlane Figure (ARV:$29.99)
(1) Game Of Thrones Jon Snow 7" McFarlane Figure (ARV:$24.99)
(1) Game Of Thrones Daenerys Targaryen 7" McFarlane Figure (ARV:$24.99)
(1) Game Of Thrones Night King 7" McFarlane Figure (ARV:$24.99)
(1) Game Of Thrones Arya Stark 7" McFarlane Figure (ARV:$24.99)
(1) Game Of Thrones Deluxe Viserion (Ice Dragon) 9" McFarlane Figure (ARV:$29.99);
(1) Game Of Thrones Deluxe Drogon 9" McFarlane Figure (ARV: $29.99)
(1) Fortnite Cuddle Team Leader 7" McFarlane Figure (ARV: $29.99)
(1) Fortnite Skull Trooper 7" McFarlane Figure (ARV: $29.99);
(1) Fortnite Raptor 7" McFarlane Figure (ARV: $29.99);
(1) Fortnite Black Knight 7" McFarlane Figure (ARV: $29.99);
(1) Call of Duty John "Soap" MacTavish 7" McFarlane Figure (ARV: $19.99)
(1) The Walking Dead Ezekiel 7" McFarlane Figure (ARV:$27.99)
(1) Tokyo Ghoul Shu Tsukiyama 7" McFarlane Figure (ARV:$29.99)
(1) Attack on Titan Levi 7" McFarlane Figure (ARV:$24.99)
(1) Attack on Titan Eren Jaeger 7" McFarlane Figure (ARV:$24.99)
(1) We Happy Few Bobby 7" McFarlane Figure (ARV:$27.99)
(1) Borderlands Zer0 7" McFarlane Figure (ARV:$27.99)
(1) The Walking Dead Negan Deluxe 10" McFarlane Figure (ARV:$49.99)
(1) Hello Neighbor The Neighbor (Butcher Version) 5" McFarlane Figure (ARV:$14.99);
(200) $25 Vanilla Pre-Paid Visa Card (Face value of $25.00)
(25) $100 Vanilla Pre-Paid Visa Card (Face value of $100.00)
(10) $250 Vanilla Pre-Paid Visa Card (Face value of $250.00)
(50) $50 EB Games Gift Card (Face value of $50.00)
Consolation Prizes:
(2,000) coupons for 30% off of a purchase of Playd Games and Recharged Accessories (30% Playd Discount")
(205,884) coupons for 15% off a purchase of Recycled Games and Accessories ("15% Playd Discount")
(27,360) coupons for an additional 25% trade credit on an exchange of Playd Games and Accessories ("25% Extra Trade Credit")
(1,814) coupons for an additional 75% trade credit on an exchange of Playd Games and Accessories ("75% Extra Trade Credit")
(27,360) coupons for a Buy One get Four last generation Playd Games (PS3, XB360, WiiU)
(5,472) $5.00 off Edge Platinum Membership
<![endif]--> <![endif]-->
ADVERTISEMENT
YOU MIGHT ALSO LIKE
<![endif]--> <![endif]-->