Sweepstakes is closed.
Get Prize
Sweepstakes is easy
$43,202
Sweepstakes is posted on :
Sweepstakes is available between :
12 September 2018 - 9:00am
-
11 October 2018 - 5:00pm
Local :
48 United States and D.C. (Void in Alaska, Hawaii)
ADVERTISEMENT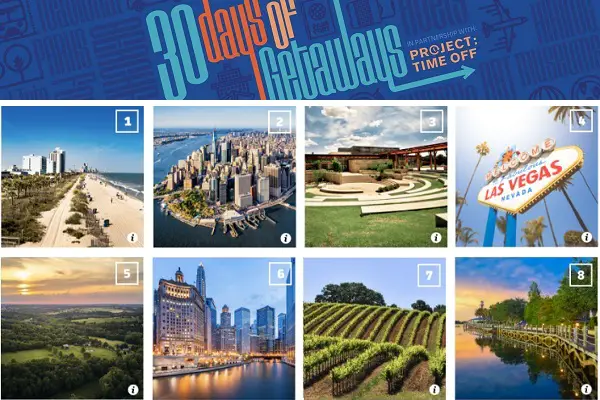 Travel lovers who love to explore new cities and landscapes can now win a trip daily for 30 days thanks to The Travel Channel. The company is giving away one dream trip daily in its 30 Days of Getaways Sweepstakes to encourage you to use your vacation days. So try your luck daily to win 1 of 30 different dream trips.
Limit: Age limit to enter the sweepstakes is at least 21 years. One entry per person, per Daily Entry Period is allowed during the Promotion Period
How to Enter:
Visit www.travelchannel.com/30days, enter your email address and submit the online entry form by providing required details.
(30) Grand Prizes (one per day)
September 12, 2018: A trip for two to Myrtle Beach, South Carolina (ARV: $1800)
Trip includes:
Round-trip coach class airfare for two
3 days/2nights hotel accommodations in Myrtle
2 Tickets for two area attractions
Dining gift certificate
Shopping gift certificate
September 13, 2018: A trip for two to New York (ARV: $752)
Trip includes:
$500 hotel voucher
Two adult CityPass NYC tickets
September 14, 2018: A trip for four to Chickasaw Country (ARV: $1,200)
Trip includes:
3days/2nights hotel accommodations for four Sulphur, Oklahoma
Four tickets to the Chickasaw Cultural Center including a traditional Chickasaw meal
$250 Chickasaw Country gift card
Two One Hour Massages at Sole'rinity Spa
Ole Reds Tishomingo Gift Basket
September 15, 2018: Winner's Choice $500 hotel voucher (ARV: $500)
September 16, 2018: A trip for two to Kentucky (ARV: $1900)
Trip includes:
$500 air travel voucher
3days/2nights hotel accommodations
Bourbon distillery and horse farm tour
Kentucky culinary experience for two
September 17, 2018: A trip for two to Chicago (ARV: $712)
Trip includes:
$500 hotel voucher
Two adult CityPass Chicago tickets
September 18, 2018: A trip for two to Sonoma County, CA (ARV: $1800)
Trip includes:
4days/3nights hotel accommodations for two
Dining gift certificate
September 19, 2018: Winner's Choice $500 hotel voucher (ARV: $500)
September 20, 2018: A trip for two to San Jose, California (ARV: $4,589)
Trip includes:
Round-trip coach class airfare for two
4days/3nights hotel accommodations for two in San Jose
Shopping gift certificate for Santana Row
Dinner for two at Grandview Restaurant
Tickets for two to The Tech Museum of Innovation
Tickets for two to the Winchester Mystery House
Two Tickets for ziplining at Redwood Canopy Tours
Club Sportiva Northern Cal Exotic Car Sprint experience
Dinner for two at Adega
Dinner for two at Left Bank
September 21, 2018: A trip for two to Boston (ARV: $618)
Trip includes:
$500 hotel voucher
Two adult CityPass Boston tickets
September 22, 2018: A trip for two to Colorado (ARV: $4000)
Trip includes:
Round-trip coach class airfare for two
5days/4nights hotel accommodations throughout Colorado
5 day economy car rental
Two admissions to a hot springs in each of the five destinations
Two alpine ski passes with gear at the following resorts: Monarch Mountain,Wolf Creek Ski Area, Sunlight Mountain Resort and Steamboat Resort
Two cross-country or snowshoe rentals in Ouray
$25 gift certificate
Hot air balloon ride for two in Pagosa Springs
Swedish massage for two in Glenwood Springs
September 23, 2018: Travel Channel Branded Gift Pack (ARV: $250)
September 24, 2018: A trip for two to Atlanta (ARV: $652)
September 25, 2018: A trip for two to The Palm Beaches (ARV: $2,953)
Trip includes:
4days/3nights hotel accommodations
Daily breakfast for two
$100 resort credit
September 26, 2018: A trip for two to Los Angeles (ARV: $1,234)
$500 hotel voucher
Two adult CityPass SoCal tickets
September 27, 2018: One Simplisafe Fortress system (ARV: $510)
The prize induces:
1 Base Station
2 Key pad
1 Key fob
6 Entry sensors
2 Motion sensors
1 105 dB Siren
1 Panic Button
September 28, 2018: A trip for two to Philadelphia (ARV: $598)
$500 hotel voucher
Two adult CityPass Philadelphia tickets
September 29, 2018: A trip for two to Maine (ARV: $3,000)
Trip includes:
6days/5nights hotel accommodations at the West Street Hotel in Bar Harbor, Maine
Dinner for two (2) each night
Two whale watching tickets
Two (2) tickets for a lighthouse tour
September 30, 2018: Winner's Choice $500 hotel voucher (ARV: $500)
October 1, 2018: A trip for two to Colorado (ARV: $3,500)
Trip includes:
Round-trip coach class airfare for two
6days/5nights hotel accommodations throughout Colorado
6 day economy car rental
Two VIP tickets to Denver museum exhibition
Two attraction passes to 24 additional top Denver attractions
Two cocktails at The Cooper Lounge in Denver Union Station
Chef's tasting dinner for two
Private Denver City tour for two
Garden of the Gods Segway tour for two
Two attraction passes to 19 additional top Pikes Peak region attractions
Half-day Colorado Jeep tour for two
Two entries to the Royal Gorge Bridge & Park
October 2, 2018: Winner's Choice $500 hotel voucher (ARV: $500)
October 3, 2018: A trip for two to Tampa Bay, Florida (ARV: $1,600)
Trip includes:
Round-trip coach class airfare for two
4days/3nights hotel accommodations in Tampa Bay
Two adult CityPass Tampa Bay tickets
Two Tampa Bay History Center tickets
$50 gift card
October 4, 2018: Winner's Choice $500 hotel voucher (ARV: $500)
October 5, 2018: Winner's Choice $500 hotel voucher (ARV: $500)
October 6, 2018: A trip for two to San Jose, California (ARV: $4,000)
Trip includes:
Round-trip coach class airfare for two
4days/3nights hotel accommodations in San Jose
Shopping gift certificate for Santana Row
Dinner for two at Grandview Restaurant
Tickets for two to The Tech Museum of Innovation
Tickets for two to the Winchester Mystery House
Two Tickets for ziplining at Redwood Canopy Tours
Club Sportiva Northern Cal Exotic Car Sprint experience
Dinner for two at Adega
Dinner for two at Left Bank
October 7, 2018: Winner's Choice $500 hotel voucher (ARV: $500)
October 8, 2018: A trip for two to Ft. Myers and Sanibel Beaches (ARV: $1,100)
Trip includes:
4days/3nights hotel accommodations in Fort Myers, Florida
Breakfast for two each morning
Dinner cruise aboard the Sanibel Harbour Princess
October 9, 2018: A trip for two to San Diego (ARV: $1234)
$500 hotel voucher
Two adult CityPass SoCal tickets
October 10, 2018: A trip for two to Sonoma County, CA (ARV: $1500)
4days/3nights hotel accommodations in Sonoma
Dining gift certificate
October 11, 2018: Winner's Choice $500 hotel voucher (ARV: $500)
ADVERTISEMENT
You might also like :