You can enjoy your favorite YouTube content anytime you want with the best YouTube to Mp3 converter tools. This can be your best solution for offline viewing provided you have secured permission to do so. Read on to know about the best tools which can help you with the same.
24 Useful Tools to Download YouTube Videos by Converting to MP3
YTMP3 is an easy-to-use YouTube to Mp3 converter which you can use without registration. Here you can download files in Mp3 and Mp4 format though Mp3 is the default format for file download. There is no upper limit on the number of downloads or conversions to your smartphone, tablet, or PC with a download speed that has increased from 3 minutes to 5 seconds.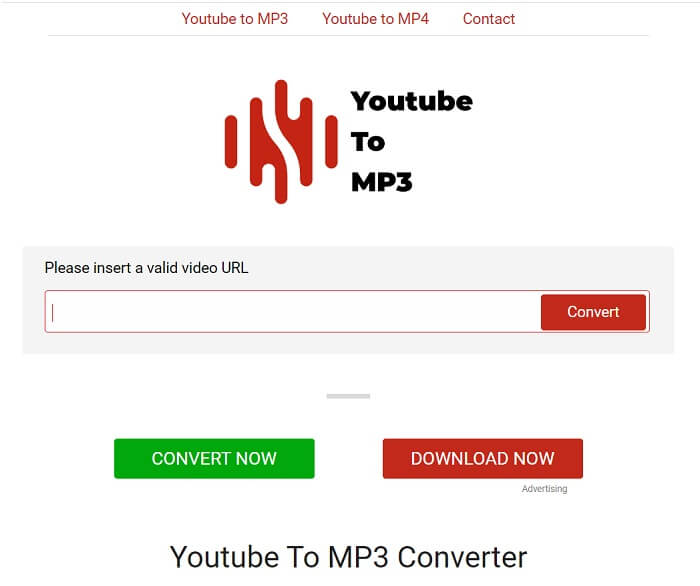 Youtubetomp3.sc is a free online video downloader and converter that supports all the latest browsers like Safari, Chrome, Firefox, etc. You can expect super-fast conversions of YouTube videos to Mp3 or Mp4 format without any prior registration or signup. This tool supports links from more than 20 video websites like Facebook, Dailymotion, TikTok, Instagram, Flickr, Vimeo, Soundcloud, Tumblr, etc. It doesn't call for any app or software download and allows users to download as much as they want for free.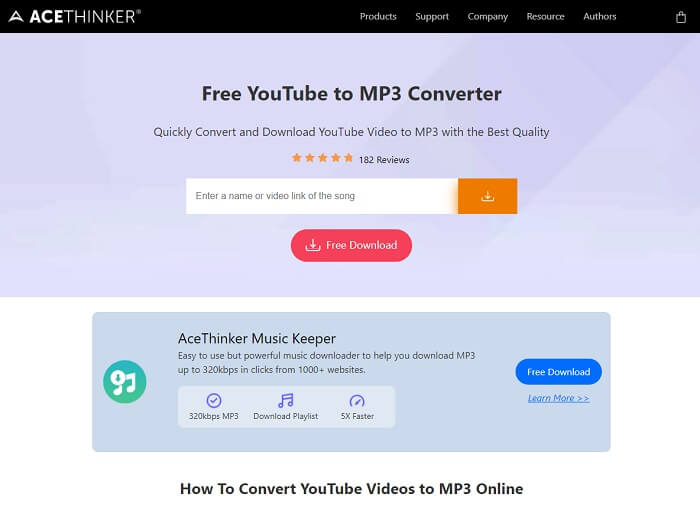 Converting and downloading YouTube videos to Mp3 format become easy with this free-to-use tool which can cater even to novice users without any computer skills. You will have to copy and paste the corresponding YouTube link to convert the files to your desired format. There is no requirement for signup or registration while using Acethinker which is compatible with multiple devices like Windows/Mac computers, android phones/tablets, and iOS devices, and also all popular web browsers like Google Chrome, Firefox, Opera, Safari, etc.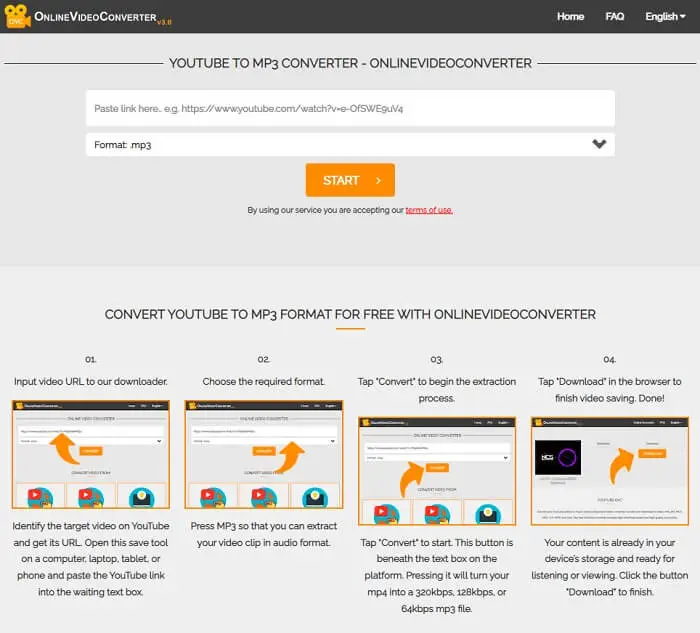 OVC is a simple and fast YouTube Mp3 or Mp4 converter that is compatible with Android, iPhone, Mac, and Windows. You don't need to create an account or register yourself for enjoying unlimited downloads. This reliable online converter boasts superb speed and can help you create playlists of Mp3 files. You can rip premium quality 4K videos within seconds without compromising on the audio quality.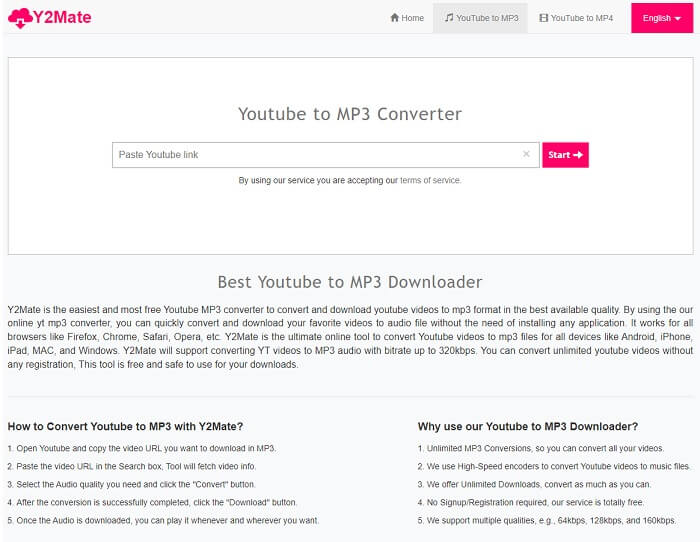 You can use Y2Mate to convert and download YouTube videos to Mp3 format in the best available quality without having to install any application. It is compatible with all popular browsers like Chrome, Firefox, Opera, Safari, etc, and can convert YouTube videos to Mp3 files for all devices like iPhone, Android, MAC, iPad, and Windows. You can use this free and safe tool for converting unlimited YouTube videos without any registration. It supports converting YouTube videos to Mp3 audio with a bit rate of up to 320kbps.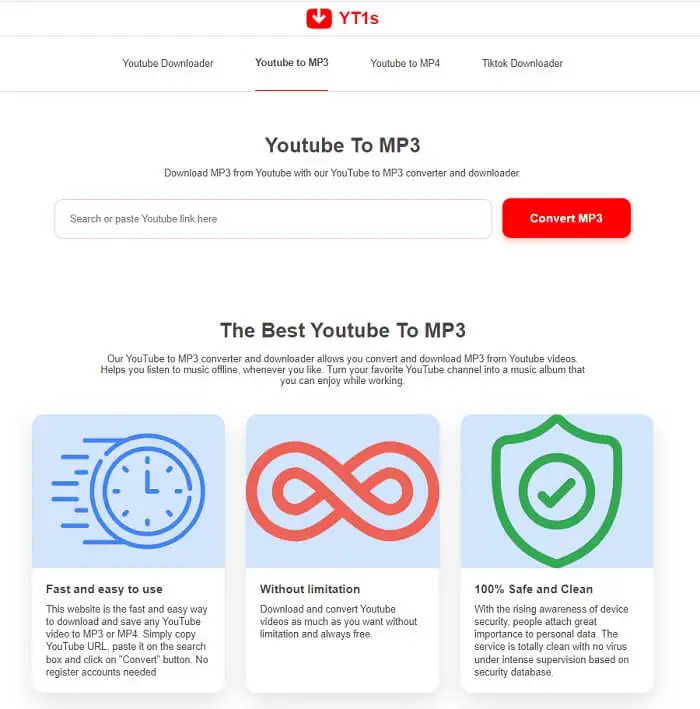 Conver and download Mp3 or Mp4 from YouTube videos with this excellent tool which can help you listen to your favorite tracks offline. You just have to copy the YouTube URL and paste it into the search box before clicking the "Convert" button. The best thing about this tool is that it doesn't require any registration and also doesn't impose any upper ceiling on the number of videos that can be downloaded or converted. This service works for tablets, computers, and mobile devices and converts audio files to the highest available quality.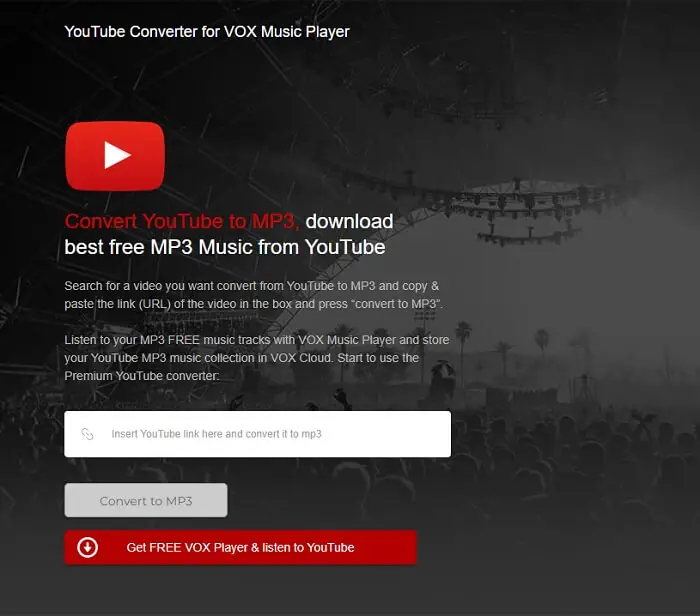 This utility serves the dual purpose of converting YouTube videos to Mp3 and downloading the best free Mp3 music from YouTube which you can enjoy in offline mode. You can search for a YouTube video and paste its URL into the box before hitting the "Convert to Mp3" button. VOX Music Player can help you listen to your favorite Mp3 tracks and even store your entire audio collection in VOX Cloud.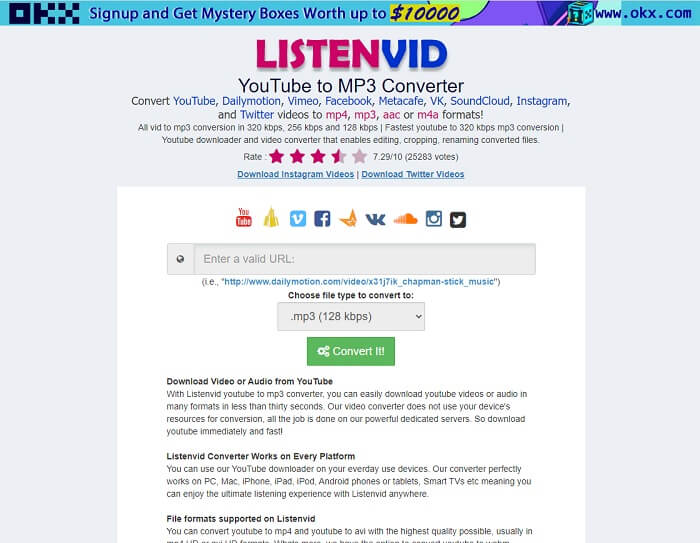 Download YouTube video and audio files within thirty seconds in multiple formats with Listenvid. This tool banks on its powerful dedicated servers which can get the job done without using your device's resources. The converter is compatible with Smart TVs, Android phones or tablets, iPad, iPods, iPhones, Mac, and PC so that you can enjoy the ultimate listening experience everywhere. With Listenvid, you can convert YouTube files to Mp3, Mp4, AVI, AAC, and WEBM formats.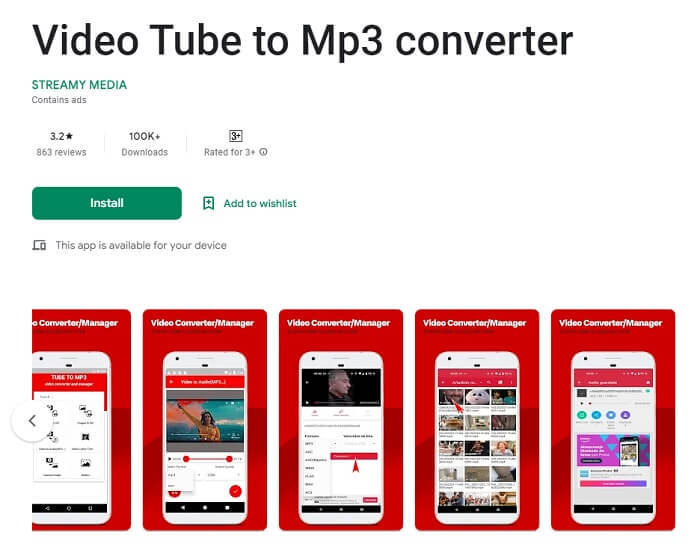 Undertake smart video conversion to Mp3 format with Tube to Mp3 converter. You can either paste the online file link or drag video files from your library to the application and add your custom conversion setting before hitting the start button. However, you cannot use this tool to download YouTube videos, only the files which have already been downloaded on your device can be converted to Mp3 format using this utility.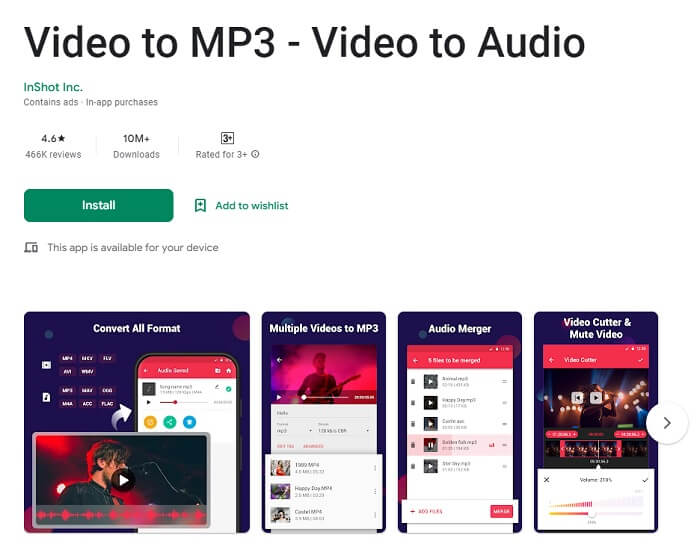 You can cut and trim video files, convert them to Mp3 and merge audio with this fast converter tool which delivers high-quality results. This powerful tool can convert 15 videos simultaneously for saving your valuable time. It supports Mp4, MKV, FLV, AVI, WMV, etc. formats for videos and Mp3, WAV, OGG, m4a, ACC, FLAC, etc. for audio. Both batch and background conversion are supported by this tool which is compatible with bitrates 32kb/s, 64kb/s, 128kb/s, 192kb/s, 256kb/s, 320kb/s, etc.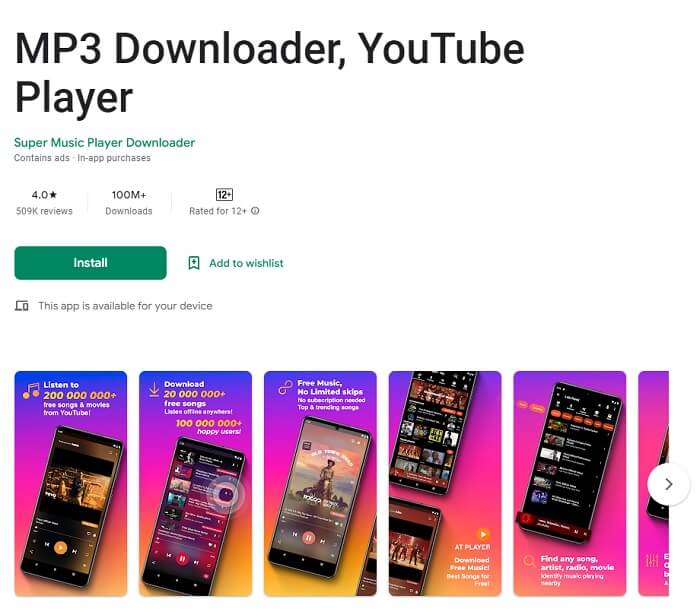 Download songs and play them offline for free using this tool which can keep your music playing while you use other applications. You can download music from Dropbox, Podcasts, and Jamendo and also stream YouTube music. However, you cannot download audio from YouTube. All the features of this tool are 100% free forever and you can avail of the same without any account creation. The formats supported by this Mp3 downloader are FLAC, M4B, MP4, 3GP, MID, OGG, Mp3, etc.
Android users can benefit exceptionally from this fast Mp3 converter and cutter which can help you create ringtones easily. The supported audio formats are AAC, Mp3, and OGG whereas the supported video formats are 3GP, Mp4, WMV, WEBM, and FLV.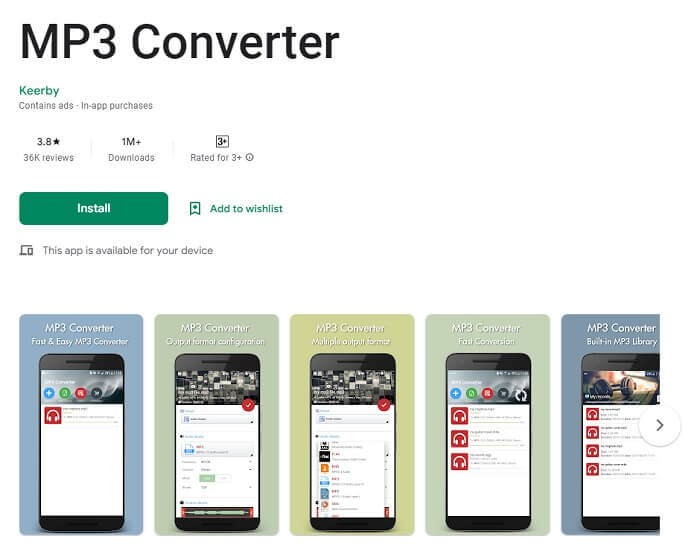 It becomes easy to convert all your music files on your android device with the Mp3 converter tool which supports major input formats like FLAC, Mp3, OGG, WMA, AC3, AAC, WAV, APE, AIFF, and more. The output format can be configured entirely with customizable bitrate, frequency, time start and duration, channel, etc. The USP of this tool lies in its background conversion which delivers fast results so that you can save your precious time.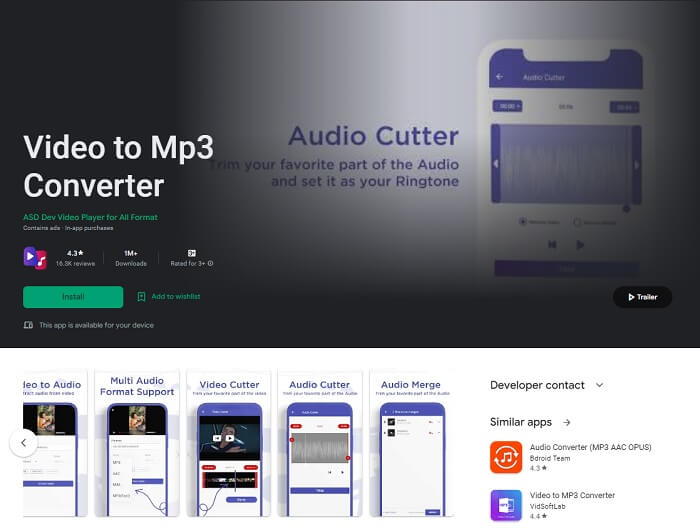 The Video to Mp3 converter is a utilizable app that helps convert Mp4 and other video format files to Mp3 and other audio file formats. There is also an option for trimming and cutting video files, merging audio, and extracting Mp3 songs from HD/Full HD videos. You can convert multiple video files simultaneously with this tool that supports Mp4, AVI, MKV, FLV, WMV, 4K, etc. for videos and Mp3, FLAC, OGG, m4a, ACC, etc. for audios and ringtones. The bitrates supported by this converter are 32kb/s, 64kb/s, 128kb/s, 192kb/s, 256kb/s, 320kb/s etc.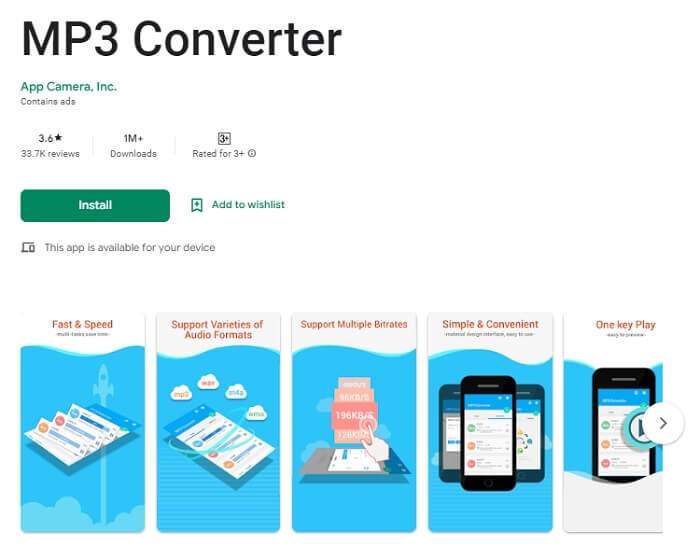 Coupled with this powerful video and audio management tool, you can convert your media file from one format to another. You can even configure the output format with customized bitrate frequency, time start, channel, and duration. The audio formats supported by this converter tool are WMA, Mp3, AAC, OGG, WAV, and AC3 whereas the audio bitrates are 24 kb/s, 48 kb/s, 64 kb/s, 128 kb/s, 192 kb/s, and 256 kb/s.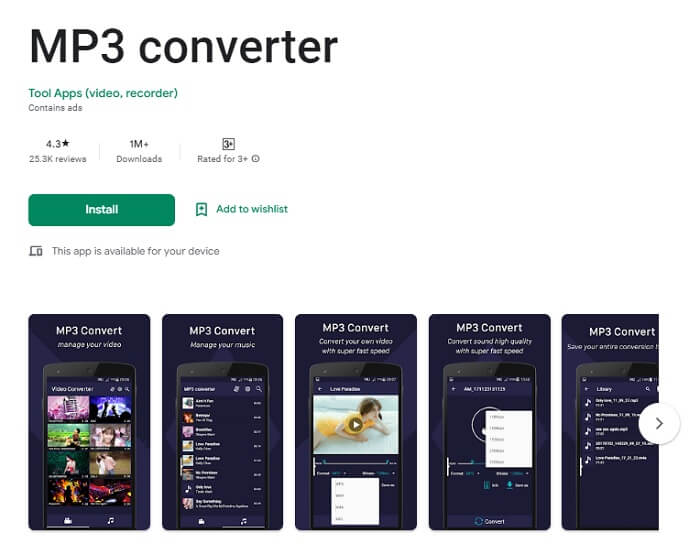 Mp3 converter can help convert FLV, 3GP, and MP4 video to audio files like AAC and Mp3 with advanced customizations in terms of metadata and bitrate. Coupled with this Mp3 converter, you can also resize and trim your audios and videos for greater functionality. It also supports editing meta information such as album, title, artist details, etc. You just have to select the video you wish to convert followed by the audio format and bit rate. Finally, you will have to add meta-data for Mp3 format and click on the 'Convert' button.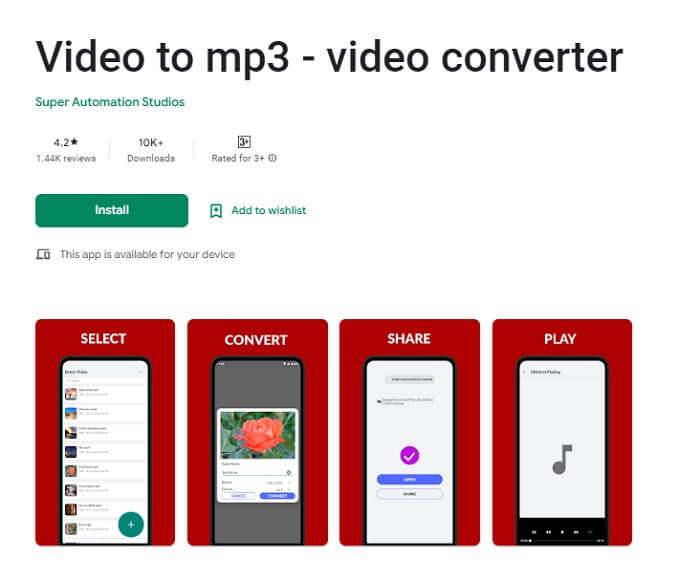 Convert Mp4, 3GP, and similar videos to AAC and Mp3 audio files with different options using the fast Mp3 video converter app. This can serve as your ideal choice if you need to frequently convert music videos to audio format and are searching for a reliable converter tool for the same. The best thing about this tool is that it can convert videos to an m4a lossless audio format by using ffmpeg and mp3lame for conversion.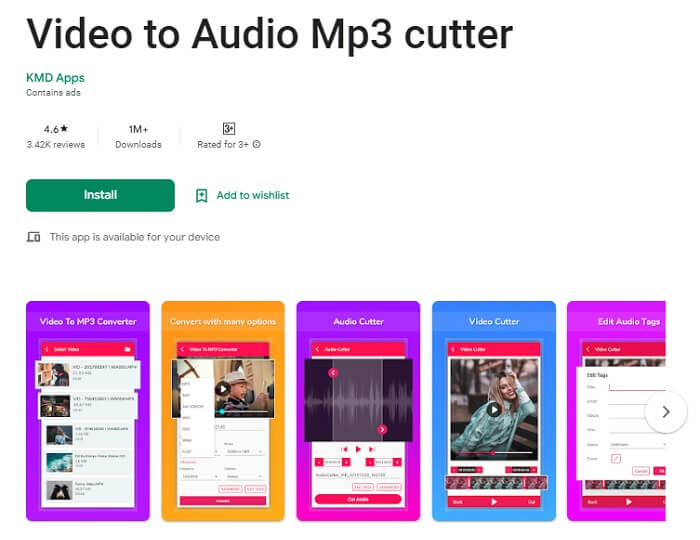 You can convert any video to audio with different formats using this video to Mp3 converter. There is no quality deterioration as you extract audio with this powerful tool which comes with an array of advanced options like changing the frequency, bitrate, and channel of audio. Both Fade in and Fade out effects can be added to the audio files. You can convert the audio files to AAC, Mp3, OGG, WAV, WMA, and FLAC format.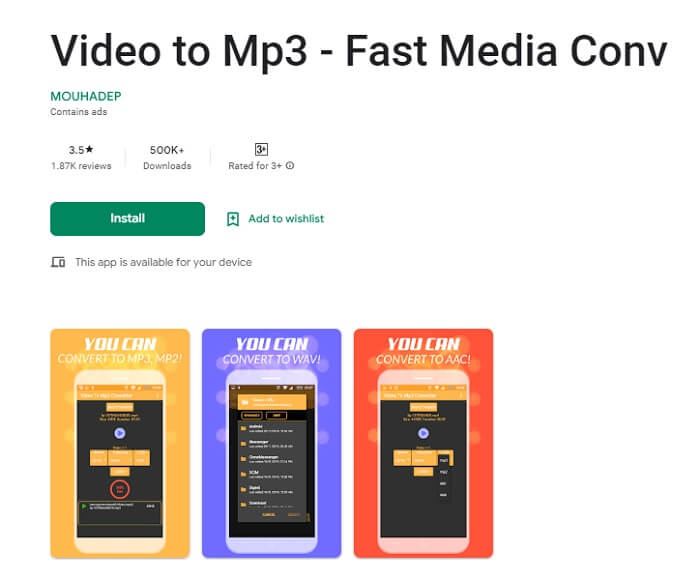 You can convert your video files easily into Mp3, AAC, MP2 or WAV format with this fast converter. However, this isn't a YouTube Mp3 converter as you can only convert the videos that are saved on your device. You will have to select the video you wish to convert and choose the audio format followed by bit rate. Ultimately, you will have to hit the 'Convert' button to initiate the process.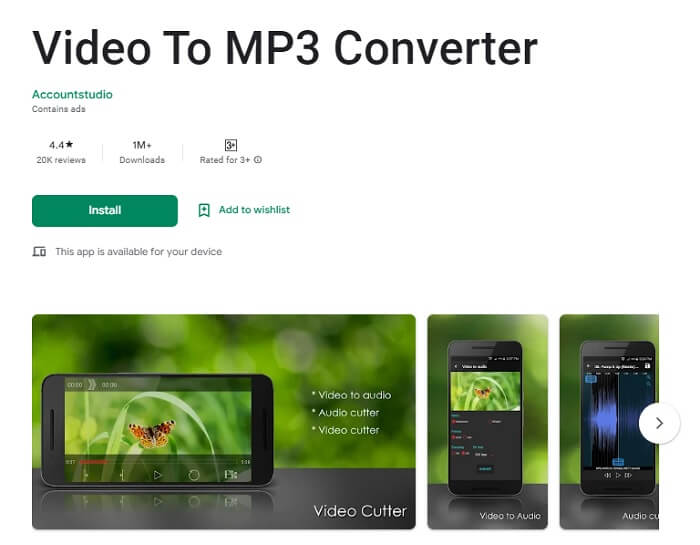 The Video to Mp3 converter is a fast tool that can convert video files to audio (AAC or MP3) format. You just need to select the video you wish to convert to audio and the final file appears in the result section. This tool supports all ARM CPU architecture. You can even edit the converted Mp3 files for adding to its versatility.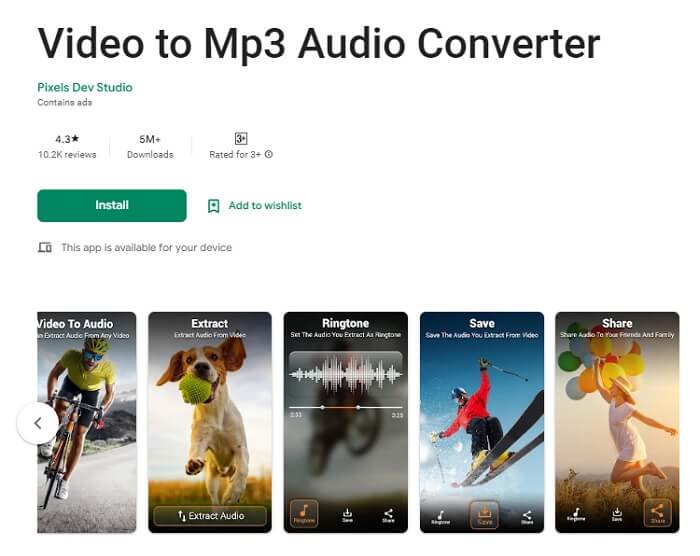 If you are trying to extract audio from video for ringtones, then you can opt for this Video to Mp3 audio converter app. This converter doesn't take up valuable storage space on your device while extracting high-quality audio files from videos. The supported audio formats are Mp3, OGG, and AAC whereas the supported video formats are 3GP, Mp4, and WEBM.
Convert video files to audio Mp3 and AAC format with various bitrate and metadata options with the Video to Mp3 converter. This tool allows extracting audio from any video of your choice. After extracting the audio, you can save it in your preferred folder and listen to it later on. There is also an option of adding meta tags to the audio such as artist, album art, and album information.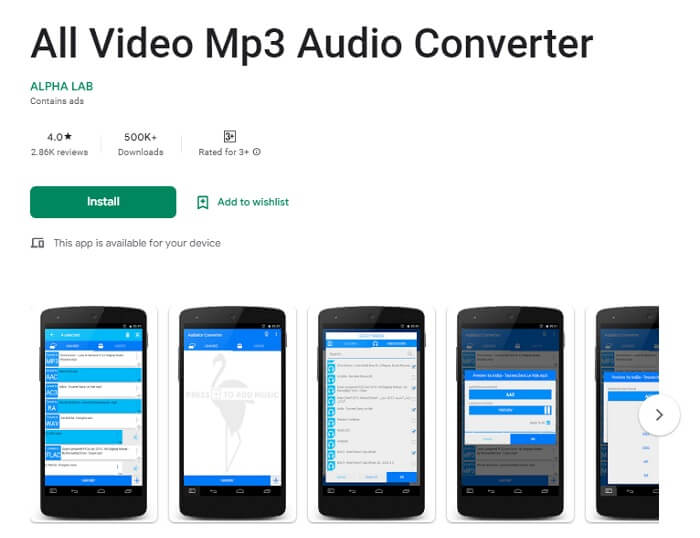 Audiator is a powerful audio and video conversion tool meant for android users. You can easily search for any audio, or video file and set the output destination with a custom frequency and bitrate. This sound app imparts a new format of music to your speaker and headphone based on the famous ffmpeg library.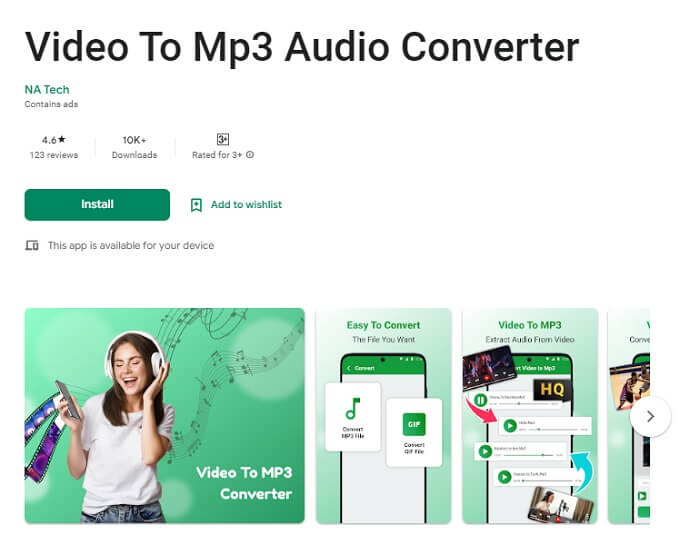 Convert video to GIF and audio files with this amazing audio converter which comes with in-app storage to back up your files and keep them safe if you delete them accidentally. The interface of this converter is very simple making it ideal for first-time users. Coupled with this free app, you can save memorable audio clips and your favorite songs in Mp3 format at high quality 320 bitrates.
A YouTube to Mp3 converter helps in extracting audio from video clips and converting them to popular audio formats quickly. You can choose among any of our expert recommendations for downloading music from videos and listening to them on the go even when you don't have internet connectivity.
ADVERTISEMENT