Sweepstakes is closed.
Get Prize
Sweepstakes is neither easy nor Hard
$293,477,426
Sweepstakes is posted on :
Sweepstakes is available between :
October 5, 2018
-
October 31, 2018
Local :
50 United States and District of Columbia
ADVERTISEMENT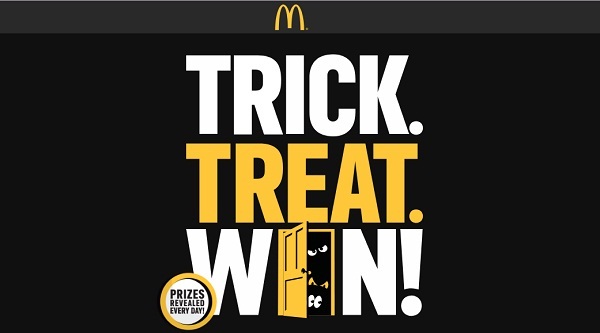 McDonald's is giving away lots of amazing prizes in the Trick Treat Win Game Sweepstakes and Instant Win Game. All you have to do is get a Game Piece to win prizes including cash, TV, Trips, car, food prizes, disc rental, Movie Ticket, movie rental, Gift Cards, Headset and so on…
Limit: You must be at least 13 years of age to be eligible for the sweepstakes. You can receive 15 new Entry Tokens redemptions and Instant Win Prize claims per Day.
How to Enter:
To enter the Daily Sweepstakes and Final Drawing, you need a Game Piece which can be obtained via two ways: purchase and without purchase.
There are Three Different Game Pieces available in the Game:
Instant Win Food Prize Game Piece (each an Instant Win Food Prize)
Instant Win Non-Food Prize Game Piece (each an Instant Win Prize)
Entry Tokens Game Piece (each an Entry Token) that can be used to enter the Daily Sweepstakes and Final Drawing.
Purchase: Buy Specially Marked Packaging of following food items to obtain a Game Piece.
Specially Marked Packaging Food Items:
Medium Hot McCafé® Beverage
Large Hot McCafé® Beverage
Medium McCafé® Cold Beverage
Medium Fountain Beverage or Iced Tea
Quarter Pounder® with Cheese Sandwich
Filet-O-Fish® Sandwich
6 piece Buttermilk Crispy Tenders/Ultimate Chicken Tenders
10 piece Chicken McNuggets®
Hash Browns; McMuffin® Sandwiches (excluding Sausage McMuffin® Sandwich)
20 piece Chicken McNuggets® and Large Fries
Mail in (Without a Purchase): Mail a handwritten, self-addressed, stamped envelope ("SASE") with sufficient postage and a return address, including first and last name, street address, city, state and ZIP code to: Trick. Treat. Win! Game at: McDonald's Game Piece Request, P.O. Box 49340, Strongsville, OH 44149-0340. You will receive two Game Pieces.
Free Entry Tokens Code: Each Participant can redeem the code "20FREETOKENS" for 20 Entry Tokens, "3NMWZ1TRDQZX" for 250 entry tokens and "KQWV8GX Z8LJ1" for 50 entry tokens" .
After getting a Game Piece, peel it carefully to determine if you won an Instant Win Food Prize or any other Instant Win Prize or if your Game Piece is redeemable for Entry Tokens. Now, visit www.TrickTreatWin.com and follow the instructions to get register and to claim Instant Win Prize or to enter the code or scan the barcode on the Entry Tokens Game Piece.
In App: Login into your Trick. Treat. Win! Account and scan the barcode/enter the 12-digit alphanumeric characters on the Entry Tokens Game Piece to enter Daily Sweepstakes for a chance to win a new prize daily.
Final Random Drawing: on November 20, 2018.
(139,585,603) Instant Win Food Prizes
(69,792,797) Medium Fries (ARV: $2.03)
(6,979,283) Big Mac® Sandwich or Artisan Chicken or Buttermilk Crispy Chicken Sandwich (ARV: $3.62 - $4.95)
(20,937,839) Biscuit Sandwich (ARV: $1 - $3.97)
(13,958,561) Small McCafé® Frappé, Smoothie or Shake (ARV: $2.00)
(27,917,123) Snack Size McFlurry® (ARV: $2.03)
(5,159,649) Instant Win Prizes
(5,000,000) Redbox One Night Physical Disc Rental (DVD, Blu-ray Disc® or video game) (ARV: $3)
(95,000) FandangoNOW Movie Rental (ARV: $4)
(7,500) Fandango Movie Ticket (ARV: $13)
(9,500) $20 PlayStation™Store Credit for purchases at the PlayStation Store (ARV: $20)
(7,000) CanvasPop® Softcover Photo Book created from winner's photos (ARV: $25).
(1,800) $25 Monster Jam Superstore Online Gift Code (ARV: $25)
(2,760) PlayMonster The Game of THINGS…® Game (ARV: $25)
(1,380) PlayMonster® 5 Second Rule® Game (ARV: $25)
(2,760) PlayMonster® Utter Nonsense!® Family Edition Game (ARV: $25)
(10,000) $25 Best Buy® E-Gift Card (ARV: $25)
(5,000) $25 Cash in the form of check (ARV: $25)
(5,000) $25 McDonald's Arch Card (ARV: $25)
(6,800) HyperX™ Cloud Stinger Core™ Headset (ARV: $39.99)
(3,900) Roku® Streaming Stick® (ARV: $49.99)
(500) Garmin® vívosmart® 3 (ARV: $119.99)
(450) CanvasPop® Canvas 16" x 20" Print (ARV: $123)
(200) Garmin® vívoactive® 3 (ARV: $299.99)
(5) Fandango® Movie Tickets for One Year (ARV: $312)
(5) 4K Ultra HD Element Roku TV (ARV: $348)
(25) PlayStation® Bundle (ARV $699.98) plus a $50 PlayStation™Store Credit, ARV: $749.98
(5) Dr Pepper® Cooler Package & One Year Supply of Dr Pepper® (ARV: $2,120)
(5) Dr Pepper® Backyard Cinema Package (ARV: $2,540)
(2) A 4day/3night trip for two to Universal Orlando Resort in Orlando, Florida, or Universal Studios Hollywood in Los Angeles, California (ARV: $2,253 - $3,223)
(40) A 4day/3night trip for four to a Beaches Resort including air travel on American Airlines (ARV: $5,850)
(1) Polaris® GEM e4 plug-in electric vehicle From Dr Pepper (ARV: $25,000)
(10) All-New 2019 Hyundai Santa Fe (ARV: $28,580)
(1) $50,000 in the form of a check (ARV: $50,000)
Daily Sweepstakes Prizes
October 5, 2018
(1) $50,000 Cash (ARV: $50,000)
(10) $10,000 Cash (ARV: $10,000)
(1000) $100 Cash (ARV: $100)
October 6, 2018
(5) Dr Pepper® Football 3day/2night Fan Trip for two in the U.S. (ARV: $7,600)
(100) $100 Fanatics.com e-Gift Card (ARV: $100)
October 7, 2018
(25) 4K Ultra HD Element Roku TV (ARV: $348)
(100) Roku® Streaming Stick® (ARV: $49.99)
October 8, 2018
(1,500) $25 Spirit® Halloween Gift Card (ARV: $25)
(125) $100 Spirit® Halloween Gift Card (ARV: $100)
(5) $250 Spirit® Halloween Gift Card (ARV: $250)
October 9, 2018
(10) 4day/3night Trip for two to Universal Orlando Resort or Universal Studios Hollywood (ARV: $2,253 to $3,223)
October 10, 2018
(10) Dr Pepper® Backyard Cinema Package (ARV: $2540)
October 11, 2018
(7,500) Fandango Movie Ticket (ARV: $13)
(5) One Year of Fandango Movie Tickets (ARV: $312)
(5,000) FandangoNOW Movie Rental (ARV: $4)
October 12, 2018
(1) $50,000 Cash (ARV: $50,000)
(10) $10,000 Cash (ARV: $10,000)
(1000) $100 Cash (ARV: $100)
October 13, 2018
(150) PlayStation® Bundle (ARV: $749)
(500) $20 PlayStation Store Credit (ARV: $20)
October 14, 2018
(3) Polaris GEM e4 from Dr Pepper (ARV: $25,000)
October 15, 2018
(5) $10,000 Shopping Spree (ARV: $10,000)
(10) $2,500 Shopping Spree (ARV: $2,500)
October 16, 2018
(3) 3day/2nights VIP Monster Jam Experience for four to Monster Jam University, Monster Jam World Finals or Monster Jam 2021 Kick-Off (ARV: $3,980 to $4,470)
(100) $25 Monster Jam Superstore Online Gift Code (ARV: $25)
October 17, 2018
(3) 3day/2nights VIP Concert Experience for two in Los Angeles, New York City or Nashville (ARV: $10,000)
October 18, 2018
(1,100) Logitech Ultimate Ears Blast Wireless Speaker and Power-Up Charging Dock (ARV: $219.98)
October 19, 2018
(1) $50,000 Cash (ARV: $50,000)
(10) $10,000 Cash (ARV: $10,000)
(1000) $100 Cash (ARV: $100)
October 20, 2018
(1) $10,000 Best Buy Gift Cards (ARV: $10,000)
(50) $1,000 Best Buy E-Gift Cards (ARV: $1,000)
(500) $100 Best Buy E-Gift Cards (ARV: $100)
October 21, 2018
(5) All-New 2019 Hyundai Santa Fe (ARV: $28,580)
October 22, 2018
(200) HyperX™ Cloud Stinger Core Headset (ARV: $39.99)
(5) HyperX™ Gaming PC Bundle (ARV: $4,550)
(1) 3days/2nights HyperX™ Esports Entertainment Experience for four in Las Vegas (ARV: $9,100)
October 23, 2018
(1) 5 nights Caribbean Luxury Cruise for four from PlayMonster (ARV: $18,000)
(219) Bundle of 20 Board Games from PlayMonster® (ARV: $500)
October 24, 2018
(1,000) Garmin vívosmart® 3 Activity Tracker (ARV: $119.99)
(300) Garmin vívosmart® 3 Smartwatch (ARV: $299.99)
October 25, 2018
(100) Redbox® One Year of One Night Physical Disc Rentals (ARV: $156)
(25,000) Redbox® One-Night Physical Disc Rental (ARV: $3)
October 26, 2018
(1) $50,000 Cash (ARV: $50,000)
(10) $10,000 Cash (ARV: $10,000)
(1000) $100 Cash (ARV: $100)
October 27, 2018
(10) 4days/3nights Beaches Resorts Luxury Vacation for four to Turks and Caicos or Jamaica (ARV: $5,850)
October 28, 2018
(5) Dr Pepper® Football Fan Trip for Two (ARV: $7,600)
(100) $100 Fanatics.com e-Gift Card (ARV: $100)
October 29, 2018
(1) Monster Jam Trip to Help Design a Die-Cast Monster Truck in Ellenton, FL for two nights (ARV: $2,340)
(100) $25 Monster Jam® Superstore Online Gift Code (ARV: $25)
October 30, 2018
(400) CanvasPop 16" x 20" Canvas Print (ARV: $123)
(1000) CanvasPop® 6" x 6" Softcover Photo Book (ARV: $25)
(5) $5,000 towards a camera of winner's choice (ARV: $5,000)
October 31, 2018
(1000) $25 McDonald's Arch Card (ARV: $25)
(1) McDonald's for Life and a check for $15,600 (ARV: $52,000)
Final Drawing Prize
(1) $50,000 Cash, awarded as a check (ARV: $50,000)
ADVERTISEMENT
You might also like :