Sparkling Ice Holiday Cash Sweepstakes: Win Gift Card
8 DAYS
Get Prize
13.2K+
One Time entry
From : November 3, 2019, 12:01 am
To : December 21, 2019, 11:59 pm
AL, AR, CO, FL, GA, IA, LA, IL, IN, KS, KY, MI, MO, MN, MS, NC, ND, NE, OH, OK, SC, SD, TN, TX, WI or WY
<![endif]--> <![endif]-->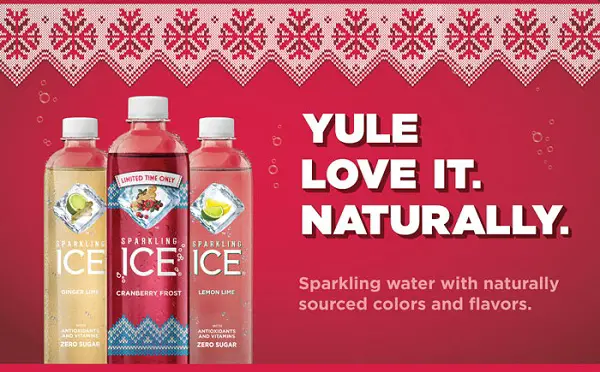 Sweepstakes is posted on :
Win Type :
Gift
Totla ARV Value :
$13200
Entry Type :
One Time entry
Difficulty Level :
Very Easy ( 2 out of 10 )
Gift Cards are the best gifting options for the holidays as the recipient can pick exactly what he or she wants. This Holiday Season, win 1 of 88 Visa gift cards to use the way you want. Just, enter into the Sparkling Ice Holiday Cash Regional Sweepstakes 2019 for your chance to win $100 or $500 Visa gift card for holidays.
Limit: Age limit to enter the sweepstakes is 18 years (19 in AL & NE) or above. One entry per person, per day is allowed throughout the Promotion Period.
How to Enter:
Text Message: Text "HOLIDAY CASH" to short code 31996. You will receive a reply text message with a link to an online form. Complete the form to receive one entry into the Sweepstakes.
Online: Visit www.holidaycash.sparklingreward.com and follow the on-screen instructions to submit an online entry. You will receive one entry into the Sweepstakes.
(88) Prizes:
REGION #1 – Eligible States: CO, ID, MT, NV, WY, UT
Entry Period
Entry Dates
Drawing Date(s)
PRIZE
#1
11/3/2019 - 11/9/2019
11/11/2019
$100 Visa Gift Card
#2
11/3/2019 - 11/16/2019
11/18/2019
$100 Visa Gift Card
#3
11/3/2019 - 11/23/2019
11/25/2019
$100 Visa Gift Card
#4
11/3/2019 - 11/30/2019
12/2/2019
$100 Visa Gift Card
#5
11/3/2019 - 12/7/2019
12/9/2019
$100 Visa Gift Card
#6
11/3/2019 - 12/14/2019
12/16/2019
$100 Visa Gift Card
#7
11/3/2019 - 12/21/2019
12/23/2019
$100 Visa Gift Card
$500 Visa Gift Card
Total approximate retail value (ARV) of Region #1 Prizes: $1,200
REGION #2 – Eligible States: AK, ID, WA
Entry Period
Entry Dates
Drawing Date(s)
PRIZE
#1
11/3/2019 - 11/9/2019
11/11/2019
$100 Visa Gift Card
#2
11/3/2019 - 11/16/2019
11/18/2019
$100 Visa Gift Card
#3
11/3/2019 - 11/23/2019
11/25/2019
$100 Visa Gift Card
#4
11/3/2019 - 11/30/2019
12/2/2019
$100 Visa Gift Card
#5
11/3/2019 - 12/7/2019
12/9/2019
$100 Visa Gift Card
#6
11/3/2019 - 12/14/2019
12/16/2019
$100 Visa Gift Card
#7
11/3/2019 - 12/21/2019
12/23/2019
$100 Visa Gift Card
$500 Visa Gift Card
Total approximate retail value (ARV) of Region #2 Prizes: $1,200
REGION #3 – Eligible State: OR
Entry Period
Entry Dates
Drawing Date(s)
PRIZE
#1
11/3/2019 - 11/9/2019
11/11/2019
$100 Visa Gift Card
#2
11/3/2019 - 11/16/2019
11/18/2019
$100 Visa Gift Card
#3
11/3/2019 - 11/23/2019
11/25/2019
$100 Visa Gift Card
#4
11/3/2019 - 11/30/2019
12/2/2019
$100 Visa Gift Card
#5
11/3/2019 - 12/7/2019
12/9/2019
$100 Visa Gift Card
#6
11/3/2019 - 12/14/2019
12/16/2019
$100 Visa Gift Card
#7
11/3/2019 - 12/21/2019
12/23/2019
$100 Visa Gift Card
$500 Visa Gift Card
Total approximate retail value (ARV) of Region #3 Prizes: $1,200
REGION #4 – Eligible States: DC, DE, MD, VA
Entry Period
Entry Dates
Drawing Date(s)
PRIZE
#1
11/3/2019 - 11/9/2019
11/11/2019
$100 Visa Gift Card
#2
11/3/2019 - 11/16/2019
11/18/2019
$100 Visa Gift Card
#3
11/3/2019 - 11/23/2019
11/25/2019
$100 Visa Gift Card
#4
11/3/2019 - 11/30/2019
12/2/2019
$100 Visa Gift Card
#5
11/3/2019 - 12/7/2019
12/9/2019
$100 Visa Gift Card
#6
11/3/2019 - 12/14/2019
12/16/2019
$100 Visa Gift Card
#7
11/3/2019 - 12/21/2019
12/23/2019
$100 Visa Gift Card
$500 Visa Gift Card
Total approximate retail value (ARV) of Region #4 Prizes: $1,200
REGION #5 – Eligible States: CA, NV
Entry Period
Entry Dates
Drawing Date(s)
PRIZE
#1
11/3/2019 - 11/9/2019
11/11/2019
$100 Visa Gift Card
#2
11/3/2019 - 11/16/2019
11/18/2019
$100 Visa Gift Card
#3
11/3/2019 - 11/23/2019
11/25/2019
$100 Visa Gift Card
#4
11/3/2019 - 11/30/2019
12/2/2019
$100 Visa Gift Card
#5
11/3/2019 - 12/7/2019
12/9/2019
$100 Visa Gift Card
#6
11/3/2019 - 12/14/2019
12/16/2019
$100 Visa Gift Card
#7
11/3/2019 - 12/21/2019
12/23/2019
$100 Visa Gift Card
$500 Visa Gift Card
Total approximate retail value (ARV) of Region #5 Prizes: $1,200
REGION #6 – Eligible States: AR, LA, TX
Entry Period
Entry Dates
Drawing Date(s)
PRIZE
#1
11/3/2019 - 11/9/2019
11/11/2019
$100 Visa Gift Card
#2
11/3/2019 - 11/16/2019
11/18/2019
$100 Visa Gift Card
#3
11/3/2019 - 11/23/2019
11/25/2019
$100 Visa Gift Card
#4
11/3/2019 - 11/30/2019
12/2/2019
$100 Visa Gift Card
#5
11/3/2019 - 12/7/2019
12/9/2019
$100 Visa Gift Card
#6
11/3/2019 - 12/14/2019
12/16/2019
$100 Visa Gift Card
#7
11/3/2019 - 12/21/2019
12/23/2019
$100 Visa Gift Card
$500 Visa Gift Card
Total approximate retail value (ARV) of Region #6 Prizes: $1,200
REGION #7 – Eligible States: AR, NV, UT, TX
Entry Period
Entry Dates
Drawing Date(s)
PRIZE
#1
11/3/2019 - 11/9/2019
11/11/2019
$100 Visa Gift Card
#2
11/3/2019 - 11/16/2019
11/18/2019
$100 Visa Gift Card
#3
11/3/2019 - 11/23/2019
11/25/2019
$100 Visa Gift Card
#4
11/3/2019 - 11/30/2019
12/2/2019
$100 Visa Gift Card
#5
11/3/2019 - 12/7/2019
12/9/2019
$100 Visa Gift Card
#6
11/3/2019 - 12/14/2019
12/16/2019
$100 Visa Gift Card
#7
11/3/2019 - 12/21/2019
12/23/2019
$100 Visa Gift Card
$500 Visa Gift Card
Total approximate retail value (ARV) of Region #7 Prizes: $1,200
REGION #8 – Eligible States: IA, IL, IN
Entry Period
Entry Dates
Drawing Date(s)
PRIZE
#1
11/3/2019 - 11/9/2019
11/11/2019
$100 Visa Gift Card
#2
11/3/2019 - 11/16/2019
11/18/2019
$100 Visa Gift Card
#3
11/3/2019 - 11/23/2019
11/25/2019
$100 Visa Gift Card
#4
11/3/2019 - 11/30/2019
12/2/2019
$100 Visa Gift Card
#5
11/3/2019 - 12/7/2019
12/9/2019
$100 Visa Gift Card
#6
11/3/2019 - 12/14/2019
12/16/2019
$100 Visa Gift Card
#7
11/3/2019 - 12/21/2019
12/23/2019
$100 Visa Gift Card
$500 Visa Gift Card
Total approximate retail value (ARV) of Region #8 Prizes: $1,200
REGION #9 – Eligible States: CO, NE, NM, SD, WY
Entry Period
Entry Dates
Drawing Date(s)
PRIZE
#1
11/3/2019 - 11/9/2019
11/11/2019
$100 Visa Gift Card
#2
11/3/2019 - 11/16/2019
11/18/2019
$100 Visa Gift Card
#3
11/3/2019 - 11/23/2019
11/25/2019
$100 Visa Gift Card
#4
11/3/2019 - 11/30/2019
12/2/2019
$100 Visa Gift Card
#5
11/3/2019 - 12/7/2019
12/9/2019
$100 Visa Gift Card
#6
11/3/2019 - 12/14/2019
12/16/2019
$100 Visa Gift Card
#7
11/3/2019 - 12/21/2019
12/23/2019
$100 Visa Gift Card
$500 Visa Gift Card
Total approximate retail value (ARV) of Region #9 Prizes: $1,200
REGION #10 – Eligible States: CT, MA, ME, NH, NY, VT
Entry Period
Entry Dates
Drawing Date(s)
PRIZE
#1
11/3/2019 - 11/9/2019
11/11/2019
$100 Visa Gift Card
#2
11/3/2019 - 11/16/2019
11/18/2019
$100 Visa Gift Card
#3
11/3/2019 - 11/23/2019
11/25/2019
$100 Visa Gift Card
#4
11/3/2019 - 11/30/2019
12/2/2019
$100 Visa Gift Card
#5
11/3/2019 - 12/7/2019
12/9/2019
$100 Visa Gift Card
#6
11/3/2019 - 12/14/2019
12/16/2019
$100 Visa Gift Card
#7
11/3/2019 - 12/21/2019
12/23/2019
$100 Visa Gift Card
$500 Visa Gift Card
Total approximate retail value (ARV) of Region #10 Prizes: $1,200
REGION #11 – Eligible States: NM, TX
Entry Period
Entry Dates
Drawing Date(s)
PRIZE
#1
11/3/2019 - 11/9/2019
11/11/2019
$100 Visa Gift Card
#2
11/3/2019 - 11/16/2019
11/18/2019
$100 Visa Gift Card
#3
11/3/2019 - 11/23/2019
11/25/2019
$100 Visa Gift Card
#4
11/3/2019 - 11/30/2019
12/2/2019
$100 Visa Gift Card
#5
11/3/2019 - 12/7/2019
12/9/2019
$100 Visa Gift Card
#6
11/3/2019 - 12/14/2019
12/16/2019
$100 Visa Gift Card
#7
11/3/2019 - 12/21/2019
12/23/2019
$100 Visa Gift Card
$500 Visa Gift Card
Total approximate retail value (ARV) of Region #11 Prizes: $1,200
<![endif]--> <![endif]-->
ADVERTISEMENT
YOU MIGHT ALSO LIKE
<![endif]--> <![endif]-->