Sweepstakes is closed.
Get Prize
Sweepstakes is neither easy nor Hard
$160,000
Sweepstakes is posted on :
Sweepstakes is available between :
6 February 2013
-
11 June 2013
Local :
Arizona, Arkansas, Colorado, Louisiana, New Mexico or Texas
ADVERTISEMENT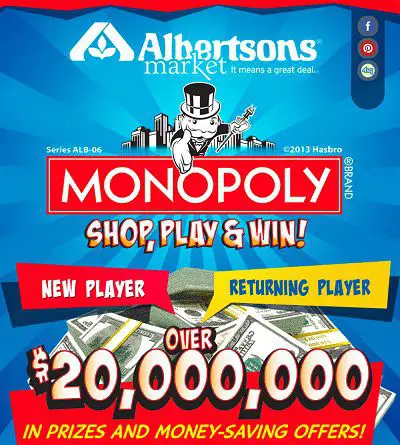 Make your dream of hitting a big jackpot true with Monopoly Game 2013. It is a great way to win real money and other great prizes. Take a tour of fantastic Albertsons' Monopoly board game, online game, and instant win game now and build your fortune! There are chances to win up to $1,000,000 cash, a car, a motorcycle, a boat, a backyard makeover, a family vacation, Albertsons Market Gift Cards, Apple iPad Minis, Xbox 360 consoles and much more. Then start to play in Monopoly Game and try your luck for good fortune. Not a winner? Don't worry. 2nd chance gives you another way to win! So keep your playing in Albertsons' Monopoly Game to hit the jackpot of your dream.
Limit: For sweepstakes eligibility, participant must be at least 18 years of age. There is no entry limit.
The overall Monopoly Game 2013 comprises three kinds of different chance to play and win: 1) Collect & Win Game; 2) Instant Win Game; and 3) Online Game. Here's how to enter for a chance to win over $20,000,000.
Collect & Win Game:
In this game, collect the game ticket by purchasing any participating Bonus game ticket items at any participating Albertsons LLC store, while supplies last. Your online purchase is not eligible for game tickets or bonus game tickets. One customer can make just one transaction per three-hour period. When you make purchase of a participating product, you will receive one Bonus game ticket. If you purchase ten participating products in one visit then you will be provided one additional entry.
You can also get one game ticket and one bonus game ticket by mailing a self-addressed, stamped envelope with handwritten your first and last name, street address, city, state and zip or postal code to: Albertsons Market "Monopoly ALB-06 Collect and Win Game Ticket Request", Attn: Promotions Coordinator, P.O. Box 965158, Marietta, GA 30066. You can send one request per envelope.
Once a game ticket on your hand, tear off the perforated part of the tickets and reveal either a special discount offer, online/sweepstakes coupon code, Instant Cash or Product Prize, or a service message along with four game markers which can be used on the game board.
If your game ticket revealed game markers then stick them with glue strip on the exact matching prize play area on the game board. But in case of the Online/ Sweepstakes Coupon code reveled on your game tickets, you will require to go online and log in to albertsonsmarket.com. Then complete the registration including 9-digit alphanumeric code found on the game tickets. There will be instant result displayed notifying whether you are winner or not.
Prizes of Collect & Win Game:
(1) $100,000 Cash (30-year annuity)
(1) $100,000 Motor Coach
(1) $100,000 Cash
(2) $50,000 Vehicle of Your Choice
(4) $40,000 Motorcycle/Boat
(6) $25,000 Backyard Makeover
(10) $10,000 Family Vacation
(15) $5,000 ATV or Camping Package
(20) $2,500 Free Groceries
(35) $1,000 Free Gas or Groceries
(60) $530 Apple iPad Mini
(60) $500 Xbox 360 w/Kinect & Live
(100) $250 Albertsons Market Gift Card
(100) $250 Cash
(500) $100 Cash
(1,000) $50 Albertsons Market Gift Card
(1,500) $25 Albertsons Market Gift Card
(1,500) $25 Cash
(2,500) $15 Monopoly Board Game
(5,000) $10 Cash
(10,000) $5 Cash
(6,500,000)2 Free Game Tickets
(713,200) Instant Product Winner
Instant Win Game:
As describe above in collect and win game, when your obtained game tickets reveal official game markers, simply match them to the corresponding game markers on the official game board and complete a section of the game board. You can see that each prize section is marked on the official game board with correct game marker to collect to win that specified prize. Just the winner per game board will be accepted.
Whether your game tickets expose coupons for instant cash or product prize, you have to just claim for your prizes by completing the complete a Low Level Prize form.
Prizes of Instant Win Game:
(250) $100 Cash
(500)$50 Cash
(1,000) $25 Cash
(2,500) $10 Cash
(5,000) $5 Cash
(12,500) $2 Cash
(50,000) $1 Cash
(250,000) Red Box Video
Online Game:
For entire online game, there are a total of 24,680,474 unique Online/Sweepstakes codes distributed. And to play the online game a valid email address and online access are required. In order to play, visit albertsonsmarket.com and click on the 'Online Game' button. As per directions, compete the all required fields and also enter your 9-digit alphanumeric code found on the online/sweepstakes coupon. Upon submission of the code, you will get instant message if you are a potential winner of a specified prize. A potential winner will receive a message to verify code and claim for prize. You can create one account per email address.
Prizes of Online Game:
(10) $500 Albertsons Market Gift Card
(20) $250 Albertsons Market Gift Card
(100) $100 Albertsons Market Gift Card
(500) $50 Albertsons Market Gift Card
(1,000) $25 Albertsons Market Gift Card
(100,000) Red Box Video
(8,000,000) 2 Bonus Game Tickets
In online game, you may also get entry into a random drawing for a chance to win $1,000 Albertsons® Market Online Sweepstakes. When you complete the registration process providing all required information and 9-digit alphanumeric online coupon code you will automatically receive an entry into the Sweepstakes. You can also use another way for sweepstakes entry and it is mail-in way in which you have to affix your online coupon code coupon to a 3" X 5" index card and hand print your full name, full address, contact phone number, age, and sign your full legal name on the index card then mail it in 1st class stamped, hand addressed envelope to: Albertsons® Market Monopoly® Sweepstakes, P.O. Box 440728, Kennesaw, GA 30160. You can use mail-in entry way as many as you want. But keep in mind that you can mail each entry in separate and contain an official, original sweepstakes entry code coupon. There are a total of 15 weekly random drawings set for the entire sweepstakes where two winners will be chosen per drawing. One grand prize winner will be also deemed there.
Each weekly winner will receive $1,000 Shopping Spree and one lucky grand prize winner will be awarded with $10,000 cash.
ADVERTISEMENT
You might also like :