Sweepstakes is open.
Win Cash
Sweepstakes is Hard
$30000+
Sweepstakes is posted on :
Sweepstakes is available between :
1 August 2017
-
31 December 2017
Local :
50 United States, The District Of Columbia, Puerto Rico, Canada, United Kingdom, The Republic Of Ireland, Germany, Denmark, Honduras, And The Republic Of Korea
ADVERTISEMENT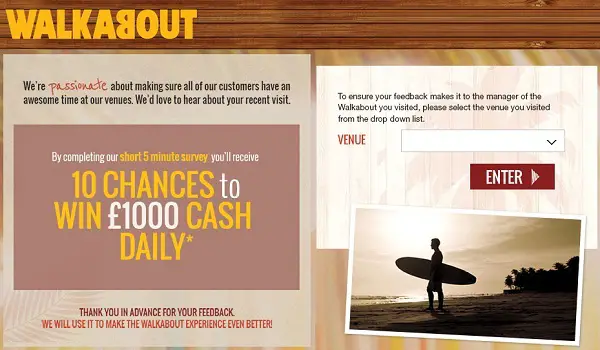 Ever enjoyed the Aussie experience at a Walkabout pub? Walkabout pub is famous for its Kangaroo Burger. Not only this, you can enjoy party, watch live game on sports screen, and enjoy beer at there too. Now they want to hear from you, so share your feedback with them regarding quality of the Aussie tucker, hospitable service and live entertainment. Upon completion of survey, you will get opportunity to win $1000 cash daily.
Limit: Entrant can get one chance daily to submit the survey. As well, they must be reached at the age of majority in their province.
In order to submit the survey, you must have survey invitation: survey response card, cash register receipt, electronic or email-based invitation and more.
There are many ways to complete the survey.
Online:
During promotion period, visit www.talkaboutwalkabout.com and enter all required details from your invitation. Then, complete the survey by answering all survey questions.
Telephone entry: In order to complete the survey via telephone, call the toll free number on the invitation and respond to the recorded prompts.
SMS entry: Just send your response via text message to the telephone number provided in the Invitation instructions.
Mail-in entry: In order to enter without completing survey, just send your hand-written following sentence "Please enter me in the Empathica Daily Sweepstakes for a chance to win 1 Daily Prize" on a sheet of paper, along with first name, last name, home telephone number, full address, email address, and the name of a participating client and mail it to:
[Enter Month/Year]Mail-In Entry
c/o EMPATHICA DAILY/WEEKLY SWEEPSTAKES
c/o [Enter Name of Participating Client]
511 Avenue of the Americas, #40
New York, NY
10011
Or
[Enter Month/Year]Mail-In Entry
c/o EMPATHICA DAILY/WEEKLY SWEEPSTAKES
c/o [Enter Name of Participating Client]
2121 Argentia Rd., Suite 200
Mississauga, Ontario, Canada
L5N 2X4
Or
[Enter Month/Year]Mail-In Entry
c/o EMPATHICA DAILY/WEEKLY SWEEPSTAKES
c/o [Enter Name of Participating Client]
One Victoria Square
Birmingham, UK
B1 1DB
Prizes:
One prize per day: USD$1,000, CAD$1,000, £1,000, DKK 8000 or €1,000 cash in form of check
ADVERTISEMENT
You might also like :