Sweepstakes is open.
Get Prize
Sweepstakes is easy
$11820
Sweepstakes is posted on :
Sweepstakes is available between :
1 December 2017 - 12:01am
-
25 December 2017 - 11:59pm
Local :
(50) United States or the District of Columbia
ADVERTISEMENT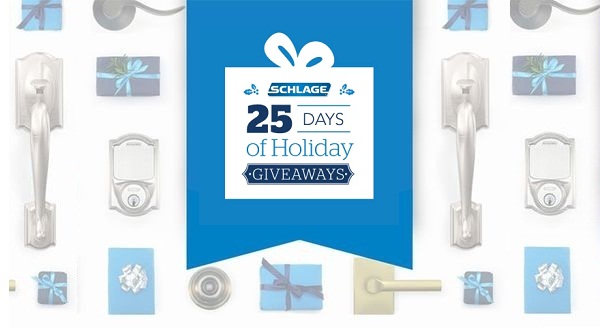 This is the season of giving and wins lots of prizes! Now, you just few steps away from win some amazing prize daily! As this season Schlage Lock Company is giving opportunity to win one prize daily till 25th December through its 25 Days of Holidays Giveaways Sweepstakes. So hurry up and try your chance to win it.
How to enter:
During promotion period, just visit www.schlage.com/25-days-of-holiday-giveaways and enter your date of birth to access entry form. After that enter all required details like name, address, email address in entry form and submit it.
Prizes:
1-Dec: Schlage Touch™ Deadbolt (ARV: $150)
2-Dec: Apple® TV 4th Gen + Schlage Sense Smart Deadbolt (ARV: $450)
3-Dec: Amazon® Giftcard (ARV: $200)
4-Dec: Amazon® Echo + Schlage Connect™ Touchscreen Deadbolt (ARV: $400)
5-Dec: Wifi Adapter + Schlage Sense™ Smart Deadbolt - $350)
6-Dec: SmartThings® Hub + Schlage Connect™ Touchscreen Deadbolt - $350)
7-Dec: Amazon® Echo + Schlage Sense™ Smart Deadbolt (ARV: $350)
8-Dec: Lowe's Giftcard (ARV: $100)
9-Dec: Schlage® Camelot Handleset and accessories - $200)
10-Dec Schlage® Century Handleset and accessories (ARV: $200)
11-Dec Home Depot® Giftcard - $200)
12-Dec Schlage Touch™ + Handleset (ARV: $250)
13-Dec Build.com® Voucher - $200)
14-Dec Schlage Sense™ Smart Deadbolt + Handleset (ARV: $350)
15-Dec Schlage® Wakefield Handleset and Accessories (ARV: $200)
16-Dec Schlage Connect™ Touchscreen Deadbolt + Handleset (ARV: $270)
17-Dec Schlage® Matte Black interior hardware (ARV: $1,000)
18-Dec Schlage® Polished Nickel interior hardware - $1,000)
19-Dec Lowe's® Giftcard (ARV: $200)
20-Dec Schlage® Oil Rubbed Bronze interior hardware (ARV: $1,000)
21-Dec Schlage® Satin Nickel interior hardware (ARV: $1,000)
22-Dec Home Depot® Giftcard (ARV: $200)
23-Dec Schlage® Aged Bronze interior hardware (ARV: $1,000)
24-Dec Build.com® Voucher (ARV: $200)
25-Dec VISA® Giftcard (ARV: $2,000)
ADVERTISEMENT
You might also like :