Sweepstakes is closed.
Win Cash
Sweepstakes is easy
$250,000
Sweepstakes is posted on :
Sweepstakes is available between :
1 March 2014
-
30 June 2014
Local :
50 United States and the District of Columbia (excluding Colorado, Massachusetts, Michigan, Texas, and Virginia)
ADVERTISEMENT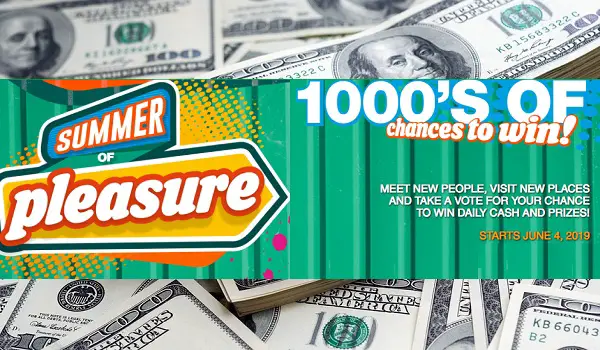 Enter into the Newport Pleasure Payday Sweepstakes at newport-pleasure.com to win cash prizes worth up to $100000.
With the growing inflation, all of us are looking for ways to make extra income. And making money with little to no work is like cherry on the top of the cake. Lorillard Tobacco is giving away cash prizes worth up to $100000 to Smokers in the Newport Pleasure Payday Sweepstakes. All you have to do is play the Newport Pleasure Payday game.
Limit: The minimum age limit to enter the Sweepstakes is 21 years and you must be a smoker. You can get one call-in entry, one Internet/wireless entry every week and two mail-in entries during the promotional period.
You can enter via three ways
Call-in entry:
During the Promotion Period, get a 9-digit Newport Customer PIN from any Newport mailing and call 1-877-630-8111, 1-877-944-5678, 1-877-877-0555, 1-877-745-6094 or 1-877-573-5678 from your phone. Follow the voice prompt instructions to submit your entry. You can get an Instant Winner message while submitting your call-in entry. If you got a message, your call will be transferred to a Live Operator who will ask your name & address and you may be an Instant Winner of a Third Prize.
Mail-in entry:
Complete the official entry form in the direct mail piece or an available at selected retail locations. Hand-printing your name, address, birth date, telephone number and signing your full legal name to certify that you are a smoker, 21 years of age or older, and send it to the address indicated.
Internet/wireless entry:
Logon to www.newport-pleasure.com and follow the online instructions to get register. To play the Newport Pleasure Payday game, hit the "ENTER" button and then, the "PLAY" button to start the game. If three gold- colored balls containing the white Newport spinnaker design logo appeared on the screen, you are an Instant Winner of a Third Prize. If you get Winner message, hit the "Claim My Prize" button and follow the instructions to verify.
Smokers who are not age verified and don't have a PIN cannot win a Third Prize Instantly via the call-in entry method & the Internet/wireless entry method and their eligible entry will be entered into the Random Drawing at the end of the Sweepstakes.
One Grand Prize, one First Prize, one Second Prize winner will be selected via random drawing on or about August 12, 2014.
GRAND PRIZE: $100,000 cash (ARV: $100,000)
First Prize: $50,000 cash (ARV: $50,000)
Second Prize: $25,000 cash (ARV: $25,000)
150 Third Prizes: $500 cash (ARV: $500)
ADVERTISEMENT
You might also like :